You are here:

Doorknocker
Doorknocker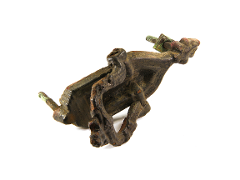 What was it used for? To call the householder to the door
Where is it from? Guildford
When was it made? About 1835
How was it made? Metal casting
What was it made from? Iron
Size: L 165mm, W 83mm
Museum number: LG.1369.3
This doorknocker came from a cottage in Castle Street, Guildford. It was one of a row of cottages built in 1825 and demolished in the 1960s. The knocker is decorated in a typical style of this time.
This is a functional item meant for a small cottage but it is still decorative. The design includes a leaf pattern at the top and other details.
The doorknocker was made in Coalbrookdale in Shropshire. This area was an important centre for iron smelting in the 18th century. Ironbridge, the first arch bridge in the world made entirely of cast iron, is close by. This was built in 1779.
Coalbrookdale was noted for the production of decorative ironwork in the 19th century. By this time, mass production of doorknockers and other fittings was widespread. Many items that had been made locally by a blacksmith in the past were now widely available and affordable.
Visit us
Guildford Museum
Castle Arch
Quarry Street
Guildford
GU1 3SX
Opening times
Monday to Saturday - 11am to 5pm
Free entry