You are here:

Gertrude Jekyll's sketch book
Gertrude Jekyll's sketch book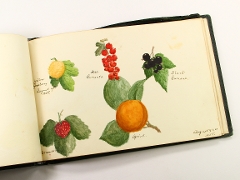 What was it used for?
Drawing, painting
Where is it from?
Bramley
When was it made?
1856
How was it made?
Bound paper
What was it made from?
Paper, leather
Size:
L 250mm, W 160mm
Museum number:
LG.3845
This sketchbook was owned by Gertrude Jekyll (1843 - 1932) an artist, craftswoman, writer and gardener who spent much of her life in south-west Surrey. She used it as a child to record the nature she saw around her. Jekyll's later training as an artist and work as a garden designer brought her into contact with the rich and famous. However, she also spent much of her time in local villages visiting traditional cottages. The results of her visits went on to help form the collections at Guildford Museum.
This book contains many drawings of fruits, vegetables, flowers, and insects by Gertrude Jekyll from 29 April 1856 to 13 November 1856. She was only 12/13 years old at the time. She had been born in London in Mayfair, the fifth of seven children. In 1848, her family moved to Bramley House about three miles southeast of Guildford. The house was set in unspoilt country, surrounded by gardens, shrubbery and ponds.
Jekyll trained as an artist and met some of the most important people in the art world at that time including John Ruskin, George Frederick Watts and William Morris. However she developed a great interest in gardens, and is now world famous as a garden designer. She designed about 400 gardens and wrote over 1,000 articles on gardening for well-known magazines such as 'Country Life'. She is particularly known for the gardens she planned for houses designed by architect Edwin Lutyens.
Jekyll also developed a great love for the Surrey countryside and its people, particularly the traditional way of life of the cottagers. She moved to Berkshire with her family in the late 1860s but returned to Surrey, to Munstead Heath near Godalming, seven years later. She then realised that the old way of life she had loved as a child was disappearing. During the next 20 years, she toured south-west Surrey photographing scenes and collecting objects relating to cottage and rural life. In 1907, she donated much of her collection of traditional household items to Surrey Archaeological Society. In 1911, the Corporation of Guildford built an extension to Guildford Museum to display this collection. Today this is the temporary exhibition gallery and we still look after Jekyll's collection.
Visit us
Guildford Museum
Castle Arch
Quarry Street
Guildford
GU1 3SX
Opening times
Monday to Saturday - 11am to 5pm
Free entry