You are here:

Guildford Cathedral vase (round)
Guildford Cathedral vase (round)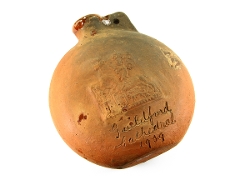 What was it used for? Sold to raise funds
Where is it from? Guildford Cathedral
When was it made? 1939
How was it made? Moulded and glazed
What was it made from? Clay
Size: H165mm, W 152mm
Museum number: LG.1932
This pottery vase or flask was made to raise funds to build Guildford Cathedral. The Church of England created the diocese of Guildford in 1927. By the time work began, in 1936, on building a cathedral for Guildford, Britain was suffering from a great economic depression. The church had to rely on members of the public to fund the building of the cathedral. In the end world events also intervened and the cathedral was not finished until the 1960s.
At least two different types of vase were made as part of the fundraising campaign. This vase shows a man on a horse, which a person on foot is leading. The man on horseback wears a mitre (hat) and holds a crosier (crook) showing that he is a bishop. This picture probably represents the coming of the new diocese and cathedral to Guildford.
Many people supported the fundraising campaign for the new cathedral. However, some people were unhappy. In particular, some locals thought the location chosen for the cathedral was wrong. Stag Hill can be seen for miles around but some felt it was too far from the centre of the town. Other people objected to the Church of England spending large sums of money in times of national crisis. The cathedral cost about £250,000 to build - over £8 million in today's money. In the end building work also had to stop because of the start of World War II. By the time the cathedral was actually finished, in 1961, the country was in a much more prosperous situation.
Visit us
Guildford Museum
Castle Arch
Quarry Street
Guildford
GU1 3SX
Opening times
Monday to Saturday - 11am to 5pm
Free entry