You are here:

Handbill for anti-nuclear meeting
Handbill for anti-nuclear meeting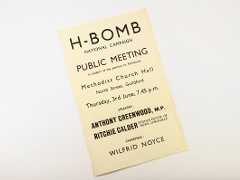 What was it used for? Advertising a meeting
Where is it from? Guildford
When was it made? 1954
How was it made? Printed
What was it made from? Paper
Size: L 203mm, W 127mm
Museum number: LG.3517
This handbill advertises a meeting of the Hydrogen Bomb National Campaign. The campaign was a reaction to the creation of the first hydrogen bombs. They were a type of nuclear weapon developed in the early 1950s. The campaign only existed for a short while but other anti-nuclear bomb groups followed.
The Hydrogen Bomb National Campaign undertook a tour of the country in the spring and summer of 1954 as opposition to nuclear weapons grew. The group's members came from a variety of backgrounds. They included vicars, academics and people on the political left. Anthony Greenwood, one of the speakers at the Guildford meeting, was a Labour MP and a member of the shadow cabinet under Clement Attlee. The other speaker, Peter Ritchie Calder, was a popular socialist. He was also science editor of the News Chronicle, a widely read daily newspaper.
Hydrogen bombs were first trialled by American scientists in the early 1950s. They had the potential to cause far more damage than the atomic bombs dropped by the United States on Japan in 1945. Those bombs had killed about 200,000 people. Soon America's allies, such as Britain and France, were developing their own hydrogen bombs. Their common enemy the Soviet Union also started creating hydrogen bombs.
During the 1950s, increasing numbers of people began to question the need for nuclear weapons. They formed various protest groups. The Hydrogen Bomb National Campaign was short-lived, as its members could not agree on a set of shared aims. However, the Campaign for Nuclear Disarmament, which protesters founded in 1958, continues to this day. It is famous for its protest marches from London to Aldermaston in Berkshire, the site of the UK's Atomic Weapons Establishment.
Wilfrid Noyce, who chaired the meeting in Guildford, had been part of the successful British Everest Expedition in 1953. Noyce travelled from his home in Godalming to the Soviet Union in 1962 to climb in the Panir Mountains. Noyce went at the height of the Cold War, the period of political tension between Russia and the West. We may think this was a strange time for an Englishman to go climbing in the USSR. However, in his diary Noyce revealed that he had an idealistic aim. He hoped that the common ground of mountain climbing might create a bridge that he could share across all other disciplines - including politics - separating East from West.
Visit us
Guildford Museum
Castle Arch
Quarry Street
Guildford
GU1 3SX
Opening times
Monday to Saturday - 11am to 5pm
Free entry