You are here:

Home Guard helmet
Home Guard helmet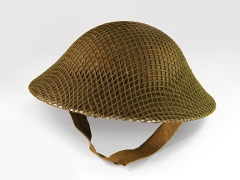 What was it used for?
Worn for protection
Where is it from?
Guildford
When was it made?
1939 - 1945
How was it made?
Pressed
What was it made from?
Steel, rubber and textile
Size:
L 311mm, W 286mm, D 127mm
Museum number:
LG.2915
This World War II helmet was worn by a member of the Guildford Home Guard. It would have been a familiar sight in the local area during the war as the men trained and patrolled against a German attack. For one member of the Guildford Home Guard in particular his role was very different from his day job.
This helmet is a type known as a 'Brodie'. The British army first used this style in 1915, during World War I. It was easy to make and hard wearing. This made it the standard issue helmet for British and Commonwealth forces during both world wars.
The Home Guard in Guildford began in May 1940. They were originally called the Local Defence Volunteers. Across the UK, they were to be the "last line of defence" against an invasion by Nazi Germany. It comprised men and boys ineligible for regular military service, often because they were too young or too old. They continued to work at their regular jobs and undertook their Home Guard duties unpaid. At first, the only item the men were given was an armband! They had to scrounge and improvise whatever weapons and equipment they could. Over time, they received firearms and training, and were integrated into proper command structures.
The owner of this particular helmet, James Gwinn, ran a bakery in Chapel Street, Guildford. The Guildford Home Guard also had some rather illustrious members. The commander of one company was E.H. Shepard. He was the well-known original illustrator of A. A. Milne's Winnie-the-Pooh books.
Visit us
Guildford Museum
Castle Arch
Quarry Street
Guildford
GU1 3SX
Opening times
Monday to Saturday - 11am to 5pm
Free entry