You are here:

Lido season ticket
Lido season ticket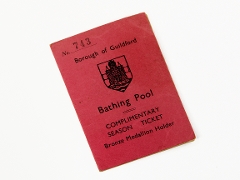 What was it used for? Entry to Guildford Lido
Where is it from? The Lido, Guildford
When was it made? 1989
How was it made? Printed
What was it made from? Cardboard
Size: L88mm, W 60mm
Museum number: LG.4632
The owner of this 1989 season ticket had free entry to Guildford Lido, an outdoor heated swimming pool set in landscaped gardens. The lido opened in 1933. It was built partly to provide work for men left unemployed by the Great Depression. Swimmers still use the pool today.
The word 'lido' is Italian for 'beach'. It was used to describe a range of outdoor pools built in Britain in the 20th century. It added an air of glamour to outdoor swimming. Bathing, as swimming was often called, was an increasingly popular pastime from the 1920s. The media in the 1920s and 30s highlighted the health benefits of swimming. In addition, swimsuits became more practical and attractive due to changes in textile technology and fashion. The rise in the popularity of outdoor swimming was also due to the achievement of Gertrude Ederle. In 1926, she became the first woman to swim the English Channel. She also managed to smash the men's record for the crossing by a full two hours.
Many local councils like Guildford built new swimming pools in the 1930s. As well as meeting public demand, this had the benefit of providing work for the many men who lost their jobs after the severe downturn in the economy that followed the stock market crash of 1929.
The popularity of lidos declined in the mid-20th century. Few were built after World War II and many were demolished. Guildford has one of the few surviving lidos. In recent years, more people have started to take up outdoor swimming. In February 2014, Guildford Lido started to provide coldwater swimming sessions during the winter months. Swimmers are advised to wear a wetsuit!
Visit us
Guildford Museum
Castle Arch
Quarry Street
Guildford
GU1 3SX
Opening times
Monday to Saturday - 11am to 5pm
Free entry