You are here:

Miniature book
Miniature book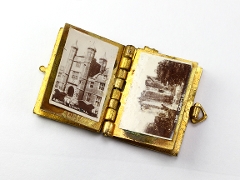 What was it used for? Souvenir
Where is it from? Guildford
When was it made? Early 20th century
How was it made? Enamelled
What was it made from? Brass, enamel and photographic print
Size: L 19mm, W 16mm
Museum number: G.2676
Miniature souvenir books like this were popular in the early 20th century. This one contains six photographs of Guildford.
Customers probably bought books like this one empty. The person then filled the book with a series of miniature photographs of his or her choice. Popular photos included ones of a person's family, members of the Royal Family and views of holiday destinations.
Here we can see two of Guildford's most well known and most photographed buildings, the 12th century castle and Abbot's Hospital. The castle tower and other walls were restored in the 1880s and the grounds were opened as pleasure gardens in 1888. This was to mark the golden jubilee of Queen Victoria the previous year. The 'hospital' is a complex of almshouses founded in the 1620s. It still provides homes today for elderly Guildford residents with limited incomes.
We do not know why Guildford was special to the owner of this book, but he or she clearly had a connection to the town.
Visit us
Guildford Museum
Castle Arch
Quarry Street
Guildford
GU1 3SX
Opening times
Monday to Saturday - 11am to 5pm
Free entry