You are here:

Mobile telephone
Mobile telephone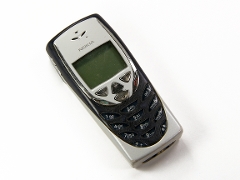 What was it used for? Making telephone calls
Where is it from? Bought and used in Guildford
When was it made? 2001
How was it made? By factory machines
What was it made from? Plastics, silicones and metals
Size: L95mm, W 43mm, D 17mm
Museum number: LG.4631
This mobile telephone was mainly designed for making telephone calls, unlike later phones, which have many functions. A Guildford mother bought it for her teenage daughter at a time when more and more people owned mobiles. This has led to an increased ability to stay in touch but may be creating an environmental problem for the future.
Mobile phones became increasingly popular from the late 1990s, as their price fell quickly and they became small enough to fit easily into a pocket. The first types of mobiles to be popular, such as this one made by Nokia, lacked many of the features available in the smartphones that followed them.
The girl who received this phone used it for several years before she upgraded to a newer model. She gave this phone back to her mother, who continued to use it until it broke about 2010. By that time, people already thought phones like this were very old-fashioned. This shows how quickly mobile technology was changing in the 2000s. However, some people in the 2010s still use phones like this. They have the advantage of a very long battery life.
By 2014, it was estimated that there were more mobile phones than people in the world. As people upgrade, they get rid of their old phones. This is leading to an increasingly serious environmental problem, as the phones often end up in landfills.
This is one of the most modern items in the museum's collection and reflects our aim to record everyday life in the 21st century.
Visit us
Guildford Museum
Castle Arch
Quarry Street
Guildford
GU1 3SX
Opening times
Monday to Saturday - 11am to 5pm
Free entry