Moneybox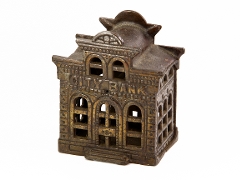 What was it used for?
Saving coins
Where is it from?
Used in Cheam
When was it made?
Late 19th century
How was it made?
Cast
What was it made from?
Iron
Size
H100mm, W 85mm, D 64mm
Museum number:
LG.3987
This metal box, in the shape of a bank, was used to save coins. The owner of the moneybox was born in 1870 and lived in Cheam. There is a single screw on the back panel of the box: this was the only way to get at any coins inside. This example follows in a long tradition of moneyboxes.
Unfortunately, this box does not have any identifying marks. However, a firm called Chamberlin & Hill made very similar ones. The company was set up in 1890 in the West Midlands. Throughout the 19th and into the 20th century, this region produced all sorts of metal goods for sale both in the UK and abroad.
Manufacturers did not start making moneyboxes out of metal until the 19th century. However, people have been storing coins in moneyboxes for a very long time. Archaeologists have found examples from Ancient Greece and Rome. Some boxes even had the coins still inside!
Visit us
Guildford Museum
Castle Arch
Quarry Street
Guildford
GU1 3SX
Opening times
Monday to Saturday - 11am to 5pm
Free entry