You are here:

Muslin bodice
Muslin bodice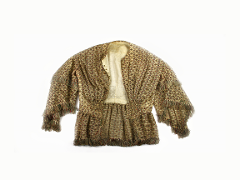 What was it used for? The top part of a dress
Where is it from? Ewell
When was it made? About 1850
How was it made? Woven, printed and sewn
What was it made from? Muslin
Size: H 622mm
Museum number: G.6754
This is the bodice of a two-piece flounce dress of printed cotton. It was worn by Emily Willis from Ewell who died in 1858 aged 32. Emily's father had been a blacksmith's apprentice in Ewell. He married the blacksmith's daughter and took over his business when he died.
The dress is woven in bands and printed with a small pattern of diamonds. Some of these are filled with tiny flowers. It is lined to the waist with a round neck and hook and eye fastenings down the centre. The sleeves and bottom of the bodice are fringed. Fringe trimming on dresses was popular from the 1840s.
This bodice also has a fashionable pointed waist and wide sleeves finishing at the elbow. These were known as pagoda sleeves and were very popular from the late 1850s. Dresses of muslin were usually used for summer because it was a lightweight form of cotton.
Visit us
Guildford Museum
Castle Arch
Quarry Street
Guildford
GU1 3SX
Opening times
Monday to Saturday - 11am to 5pm
Free entry