You are here:

Photograph of St Martha's Church
Photograph of St Martha's Church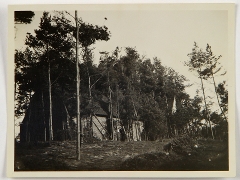 What was it used for? Unknown
Where is it from? Shows church near Guildford
When was it made? 1914 - 1918
How was it made? Photography
What was it made from? Photographic paper
Size: L 108mm, W 83mm
Museum number: TG.366/1-4
This photograph shows a view of St Martha's Church, near Chilworth, taken during World War I. The trees near the church are not growing there. The authorities cut them down and piled them around the church to disguise it. People feared that German airships could use the church as a navigation aid to strike at an important local factory.
St Martha-on-the-Hill is a parish church southeast of Guildford. There was a chapel on the site in Saxon times. The current building dates from the late 12th century. The church suffered many disasters over the years. In the 18th century, a gunpowder explosion badly damaged it. The church fell into disrepair in the early 19th century but was restored in the late 1840s.
Very few churches in England are dedicated to St Martha. In fact, there is a strong local tradition that the church was never dedicated to St Martha. Instead, some people think 'Martha' was a corruption of the word 'martyr'. We're not sure who those martyrs were: ideas vary from St Thomas Becket to a group of missionaries in early Anglo-Saxon times.
German airships, known as 'Zeppelins', did attack Surrey in World War I. In 1915, several bombs fell on the St Catherine's area of Guildford. This also has a chapel on top of it. Some people think that the captain mistook this for St Martha's and was using it to aim at the gunpowder mill just down the hill in Chilworth. Other sources suggest the captain was completely lost.
Visit us
Guildford Museum
Castle Arch
Quarry Street
Guildford
GU1 3SX
Opening Times
Monday to Saturday - 11am to 5pm
Free entry