You are here:

Pot lid for hair balm
Pot lid for hair balm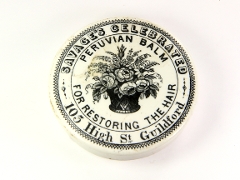 What was it used for? To store hair balm
Where is it from? High Street, Guildford
When was it made? Late 19th or early 20th centuries
How was it made? Mould, transfer print and glazed
What was it made from? Porcelain
Size: Diameter 73mm
Museum number: LG.1221
China pots like this one were common for storing 'lotions and potions' in Victorian and Edwardian times. John Savage, whose name appears on this pot lid, was a barber. He would have sold various drugs and remedies from his shop at 103 High Street, Guildford including this balm for curing baldness. Did it help the hairless men of Guildford?
In the days before easy access to doctors and dentists, barbers did more than just cut men's hair and shave them. They also took out painful teeth and lanced (pricked) cysts. They even amputated (cut off) diseased limbs including arms and legs. By Victorian times, they were still offering basic medical services, such as selling medicines and cures.
It is probable that none of the ingredients in Savage's 'Peruvian' balm actually came from that country. Marketing was important though. Savage probably used the name of the South American country to make his balm seem exotic to his customers. The picture of the vase of flowers is not only attractive, but also suggests health and fertility.
It is also very unlikely that Savage's 'celebrated' balm for restoring hair actually worked. 'Quack' remedies were very common during this period. Often they contained no ingredients at all that had been proved to work. In some cases, they contained substances that were actually harmful to health, including mercury.
Visit us
Guildford Museum
Castle Arch
Quarry Street
Guildford
GU1 3SX
Opening times
Monday to Saturday - 11am to 5pm
Free entry