You are here:

Pot lid for hair cream
Pot lid for hair cream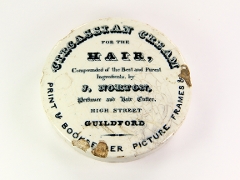 What was it used for? To store hair cream
Where is it from? High Street, Guildford
When was it made? 1833 - 1863
How was it made? Moulded, transfer printed and glazed
What was it made from? Porcelain
Size: Diameter 762mm
Museum number LG.1228
This lid came from a pot of cream sold to make women's hair more beautiful. John Norton, who made the cream, worked as a hairdresser and perfumer from a shop on Guildford High Street in the mid-19th century. He probably named his cream Circassian, as women from this ethnic group were famous for their beauty. Did it work on the ladies of Victorian Guildford?
John Norton's main business was selling beauty products and cutting hair. However in common with other Victorians in the same line of work, he also had sidelines selling books, stationary, prints and picture frames. This is similar to some chemists today.
The Circassians come from the North Caucuses, in between Russia and Georgia. In the Middle Ages, Circassian women were well known for their beauty. Many were taken as concubines (recognised mistresses) to the Ottoman court at Constantinople (modern day Istanbul). In the West, the word 'Circassian' came to be linked with Eastern exoticism, sex and feminine beauty. It was the perfect term to use to market toiletries to women. In the 18th and 19th centuries, we find it being used on a wide range of different products. In fact, neither the ingredients nor the recipe for Mr Norton's cream probably had anything to do with the Circassians.
Visit us
Guildford Museum
Castle Arch
Quarry Street
Guildford
GU1 3SX
Opening times
Monday to Saturday - 11am to 5pm
Free entry