Purse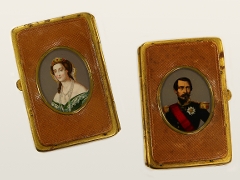 What was it used for? To carry money, stamps etc.
Where is it from? Made in France
When was it made? 1850s - 1870s
How was it made? Various techniques
What was it made from? Metal, leather, glass and enamel
Size: L 88mm, W 58mm, D 12mm
Museum number: LG.1311.4
This purse was made in France in the mid-19th century and shows the French emperor Napoleon III and his wife Eugénie. However it wasn't used in France, but in Guildford, by a doctor's wife.
This purse was probably made in Paris. The enamel picture on one side shows Napoleon III who ruled France from 1848 to 1870. It is likely the purse was made at that time. The picture on the other side is of the Empress Eugénie.
The purse was owned by Mrs Steadman, the wife of Dr James Steadman who practised medicine in Guildford from the early to the middle of the 19th century. Mrs Steadman used the purses to carry money, calling cards (like business cards), stamps and other similar items.
Napoleon III was the nephew of Napoleon Bonaparte. He formed an alliance with Britain (France's enemy for many centuries) when both countries feared Russia and fought together in the Crimean War (1853 - 56). After this Napoleon III became a popular figure in Britain. When France was invaded by Prussia in 1870 he fled to Britain. He lived in Chislehurst, then part of Kent. After he died in 1873 he was buried at the Benedictine Abbey of St. Michael in Farnborough.
Visit us
Guildford Museum
Castle Arch
Quarry Street
Guildford
GU1 3SX
Opening times
Monday to Saturday - 11am to 5pm
Free entry