You are here:

Queen's South Africa medal
Queen's South Africa medal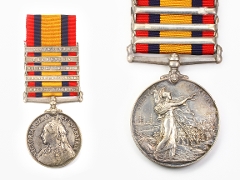 What was it used for?
Campaign medal
Where is it from?
Relates to war in South Africa
When was it made?
1900 - 1902
What was it made from?
Silver
Size:
Diameter 36mm
Museum number:
LG.4639
This medal was awarded to military personnel who served in South Africa during the Second Boer War (1899 - 1902). It was given to Private J Walsh of The Queen's (Royal West Surrey Regiment) whose headquarters were in Guildford. The medal shows Britannia, symbol of Great Britain, and in the background a group of soldiers. On the obverse is Queen Victoria, monarch at the outbreak of war. There were three different versions of the medal; a small detail reveals which version we have here.
The five clasps on the medal's ribbon indicate particular battles or actions in which Private Walsh was involved. There were 26 separate clasps that could be awarded with the medal. However, five is still an impressive number and shows that Walsh must have seen a lot of action.
The government gave this medal to British and Colonial soldiers and sailors, as well as certain civilians who were working in an official capacity, during the Second Boer War. The British Empire and two Boer states (the South African Republic and the Orange Free State) clashed over the Empire's influence in South Africa. The Boers traced their roots to northern European countries such as The Netherlands and Germany.
There are three distinct versions of the South Africa medal. When the war broke out in October 1899, people thought it would only last a few months and finish by the following year. The first batch of medals were therefore struck with the years '1899 -1900' on the reverse. However, it became clear that the war was going to drag on. Those medals that hadn't been issued had the years filed-off. A new batch was then minted without any date at all. In the second version, Britannia's right hand pointed towards the letter F in Africa rather than the letter R in the earlier version.
Visit us
Guildford Museum
Castle Arch
Quarry Street
Guildford
GU1 3SX
Opening times
Monday to Saturday - 11am to 5pm
Free entry