You are here:

Ration books
Ration books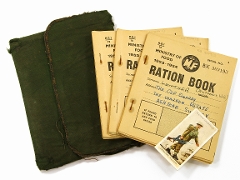 What was it used for?
To ration food
Where is it from?
Ashtead, Surrey
When was it made?
1953 - 1954
How was it made?
Printed, cut and stapled
What was it made from?
Paper
Size:
L 127mm, W 108mm (ration books)
Museum number:
LG.2777 -80
These three World War II ration books belonged to A.W.G. Lowther and to William and Violet Fitzgerald. Lowther was a prominent archaeologist and we think the Fitzgeralds worked for him at his home in Ashtead, Surrey. The books contain coupons. Shoppers had to give the coupons to the shopkeeper, along with payment, when they wanted to buy certain rationed foods.
The British government introduced rationing in 1940. Everyone had their own ration book with coupons for basic foodstuffs such as bread, sugar and meat. One page of each book was stamped with the names of local shops selling various groceries. People could only buy food and other rationed goods from the shops listed in their book. There were separate ration books for clothing. Rationing did not stop immediately with the end of the war in 1945. However, by the early 1950s, most foods were no longer rationed. The government ended rationing completely on 4 July 1954 when it lifted restrictions on buying meat and bacon.
Anthony Lowther was a well-known archaeologist and Vice President of Surrey Archaeological Society. He was the first to excavate at the site of Ashtead Roman villa, which he discovered in 1924. He collected a large amount of archaeological objects during his life. Many of these are now held at Guildford Museum.
The ration books were donated to Guildford Museum along with the homemade leather wallet. Mrs Fitzgerald probably kept all the ration books together in the wallet so they were all easily to hand when she did the shopping for the household. There was also a cigarette card. Companies, such as Players here, gave away the cards in their cigarette packets. There was usually a series to collect. This series showed uniforms of volunteer or Territorial Army soldiers from 1537 to 1939.
Visit us
Guildford Museum
Castle Arch
Quarry Street
Guildford
GU1 3SX
Opening times
Monday to Saturday - 11am to 5pm
Free entry