You are here:

School medal
School medal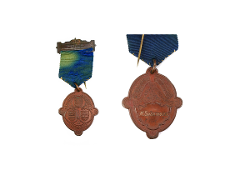 What was it used for? Award for regular attendance
Where is it from? Godalming
When was it made? 1904
How was it made? Cast and engraved
What was it made from? Copper alloy
Size: L 46mm, W 38mm
Museum number: LG.1314
This medal was awarded to Matilda Sherwood as a prize for her regular attendance at a school in Godalming in 1904. Matilda was five years old and so this was her first year at school. She was the daughter of an upholsterer. Medals encouraged children to come to school. Children often missed school as they worked or stayed at home.
School provision was very varied until the Education Act of 1870. Schools were set up by school boards after 1870 where there was no existing school, often run by a church based society. Each school was controlled by a board of directors and many new schools were built.
In 1880 a further act of parliament made school attendance between the ages of five and ten compulsory. However schooling was not made free until 1891. The upper age was raised to 11 in 1893, then 12 in 1899 by the time this medal was awarded. Children had to be on time for registration every single day to get a medal.
The front of the medal shows the arms of Surrey, Kingston and Guildford. County Councils were first established in 1889. Under the 1902 Education Act, local education authorities, under the control of county councils, took over running schools. The Surrey County Council Education Committee was set up in 1903, just a year before this medal was awarded.
Visit us
Guildford Museum
Castle Arch
Quarry Street
Guildford
GU1 3SX
Opening times
Monday to Saturday - 11am to 5pm
Free entry