Tallies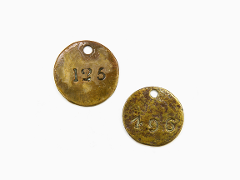 What was it used for? Receipt for items left at gunpowder works entrance
Where is it from? Chilworth
When was it made? 1900-1920
How was it made? Stamped
What was it made from? Brass
Size: 36mm Diameter
Museum number: LG.3820.a-b
These brass tallies were issued as receipts for items left by workers at the Chilworth gunpowder works gatehouse before their shift. Matches or anything that could make a spark such as steel buckles were not allowed on the shop floor. This was to try and avoid explosions but it was not always successful.
Gunpowder mills were first established at Chilworth by the East India Company in 1626. The River Tillingbourne provided power for waterwheels. A lot of the gunpowder was taken to the Wey and Godalming Navigations and then by barge to sites such as the Royal Arsenal at Woolwich in London. Here it was stored and used to make shells and cartridges. The powder works were at their busiest during World War I when they produced cordite (a type of explosive used in artillery shells) for the Navy. The works closed in 1920.
The powder works did not always have the best safety record and there were explosions. A major one in 1763 partly destroyed St Martha's Church. Another in 1901 left six workers dead. Tallies like these show one of the ways to make this dangerous industry a little safer. Chilworth also used earth banks in a horseshoe shape to separate parts of the process and this layout was widely adopted at other mills.
Visit us
Guildford Museum
Castle Arch
Quarry Street
Guildford
GU1 3SX
Opening times
Monday to Saturday - 11am to 5pm
Free entry