You are here:

Tea canister
Tea canister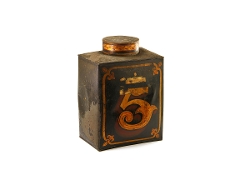 What was it used for? To store loose tea for sale
Where is it from? Lord's Hill Stores, Shamley Green
When was it made? Late 19th or early 20th century
What was it made from? Metal
Size: H 305mm L 203mm W 127mm
Museum number: LG.1355.4
This canister was used at Lord's Hill Stores in Shamley Green until at least the early 1960s. The shop used it to store tea, which was then emptied into a smaller bag for customers. Canisters such as this with loose-leaf tea were a familiar sight until the development of tea bags.
This canister was part of a set of six. The other canisters in the set contained spices. Tea has been drunk in China since ancient times, but it did not reach Britain until the 17th century. At first it was very expensive and was far less popular than coffee. In the 18th century, the price of tea began to fall and by the following century Britain was spending so much on tea from China that the country was beginning to run out of silver coins and bars.
In response, the British began selling huge amounts of opium to China to get some of their silver back. The Chinese, seeing the harm that opium was causing to their people, tried to ban the trade in the drug. Britain fought China in the First Opium War (1839-42) to keep this trade open and ensure Britain kept its access to tea.
Tea bags were patented in 1901, and were originally made out of silk. Although very convenient to use, they were slow to take off. Loose tea, and the canisters it was sold in, was the norm in Britain until well after World War II.
Visit us
Guildford Museum
Castle Arch
Quarry Street
Guildford
GU1 3SX
Opening times
Monday to Saturday - 11am to 5pm
Free entry