You are here:

Tobacco tin
Tobacco tin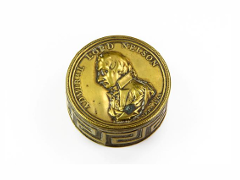 What was it used for? Storing tobacco or snuff
Where is it from? Made in England
When was it made? About 1805
How was it made? Pressed
What was it made from? Brass
Size: H 25mm, Diameter 54mm
Museum number: G.255
This tin held snuff, a form of tobacco, which people sniffed through their noses. Snuff first became particular popular in England in the early 18th century. An advert from 1704 lists headaches, drowsiness, humours in the eyes and hearing problems as just some of the ailments that snuff could cure. Nelson himself lived briefly in Merton, then in Surrey, using it as a hideaway.
Tins commemorating naval and military heroes were popular from the mid-18th century. This box is an example of the popular cult of Admiral Nelson. He led the British fleet to victory before dying of wounds he received at Trafalgar in 1805. Nelson already had a series of great naval victories to his name. His death was a massive shock to the nation.
Snuff was very popular during the 18th century but by the early 19th century, when this tin was produced, its use was in decline. It could make stains on the white handkerchiefs of the gentlemen who used it and the drop in use may be due to that.
Not everyone was a fan of snuff. In 1754, the editors of 'Connoisseur' magazine had a letter of complaint from a disgruntled reader about the use of snuff in public places. He angrily writes that 'in every corner you may hear them in concert, snuffling, sneezing, hawking and grunting like a drove of hogs.'
Nelson himself was a keen user of snuff. He is said to have taken large quantities with him when he went to sea. He may have also used it at home including at his house in Merton. The area was distinctly rural at the time. Life at Merton allowed Nelson to spend time with his mistress Emma Hamilton, away from the prying eyes and wagging tongues of London society.
Visit us
Guildford Museum
Castle Arch
Quarry Street
Guildford
GU1 3SX
Opening Times
Monday to Saturday - 11am to 5pm
Free entry