Wand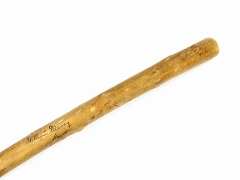 What was it used for? In a civic ceremony
Where is it from? Guildford
When was it made? 1933
How was it made? Roughly cut and varnished
What was it made from? Wood, probably willow
Size: L 1822mm, Diameter tip 21mm, base 33mm
Museum number: LG.4534.1
This long wooden stick or 'staff' was used during the 'Beating of the Bounds' on the 7th June 1933. This circular walk around Guildford was to check that the boundary was still in place. The wand was used to hit landmarks such as trees, walls, fences and boundary stones.
The wand was owned by Jack Masterton and is probably made of willow. It is signed, visible in the photo, by 'William Harvey, Mayor' and elsewhere by 'V Onslow' and 'Alderman (HE) Smith'.
In 1933 the borough of Guildford had been enlarged to include Merrow. The walk was about 29 km (18 miles) in length. Twenty seven adults and twenty children took part, starting at 8.30am and finishing at 8.10pm.
It is traditional for people to be 'bumped' against some of the landmarks - hopefully with not too much violence! The Mayor, William Harvey, was the first to be 'bumped' at the start at Compton against the boundary stone.
William Harvey had an eventful life. He won the Military Medal during World War I and was mayor of Guildford for two terms between 1931 and 1933. Harvey was behind the construction of Guildford Lido, which was built not only to improve the fitness of local people, but also to provide work for unemployed men. He was awarded the OBE in 1934 for services in "the relief of unemployment."
Visit us
Guildford Museum
Castle Arch
Quarry Street
Guildford
GU1 3SX
Opening times
Monday to Saturday - 11am to 5pm
Free entry