You are here:

Waterloo medal
Waterloo medal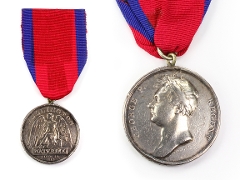 What was it used for? Military award
Where is it from? Britain
When was it made? Issued in 1816 - 17
How was it made? Struck
What was it made from? Silver
Size: Diameter 37mm
Museum number: G.1609
The Waterloo Medal was issued to all British soldiers who took part in the Waterloo campaign, including the main battle fought in mid-summer 1815. It is full of references to the victory including the Prince Regent in a laurel wreath and an image of Victory as a figure with wings. This particular medal was awarded to Henry Swann of Elstead. However, he may have chosen not to wear this recognition of his service.
The Waterloo Medal was the first medal the British government awarded to all men present at a battle, regardless of an individual's contribution. The government gave it to all British soldiers at the main battle on 18 June 1815 as well as those fighting the violent battles leading up to it. Around 39,000 medals were made in total. The Waterloo medal was also the first medal to have the recipient's name impressed around the edge by machine. Henry Swann, the recipient of this medal, was born in Elstead in 1791. He served with the 1st Regiment of Foot Guards and was in the army for more than 40 years.
At the Battle of Waterloo, the British, Prussians and Dutch fought together against the French. The battle was named after the small village nearby in what is now Belgium. The French army had around 73,000 soldiers whereas their enemies together had about 118,000. Fighting was very heavy, with over 60,000 casualties including those who were killed, wounded, captured or went missing. The French fought bravely but the battle ended as a firm victory for the British and the Dutch due to the arrival of extra support from the Prussians. The French emperor, Napoleon Bonaparte, abdicated (stepped down) after their defeat. The British general Sir Arthur Wellesley, Duke of Wellington, became a hero. His name appears on the reverse of the medal above the image of Victory. Following the battle, Europe settled into a long period of relative peace that lasted until the outbreak of World War I in 1914.
The 1st Regiment of Foot Guards was heavily involved in the Battle of Waterloo, where they pushed back an attack from the French Chasseurs. After the battle, the regiment changed its name to the Grenadier Guards as they had mistakenly thought they were fighting the French Grenadiers. They also started to wear the tall bearskin hat, copying their supposed enemy.
Many in the British army were unhappy that the government had issued the Waterloo Medal to everyone involved. Those soldiers who had fought in the previous major campaign, the Peninsula War (1807 - 1814) had not all received a medal. In addition, many of the soldiers at Waterloo were raw recruits. In solidarity, many Waterloo veterans refused to wear their medal until, in 1848, the government issued one for the Peninsula War.
Visit us
Guildford Museum
Castle Arch
Quarry Street
Guildford
GU1 3SX
Opening times
Monday to Saturday - 11am to 5pm
Free entry