Wig curler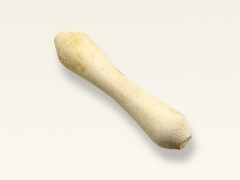 What was it used for?
To make curls in a wig
Where is it from?
Found in a shop in Guildford High Street
When was it made?
18th century
How was it made?
In a mould and fired
What is it made from?
Clay
Size:
L 70mm
Museum number:
LG.1009
This clay rod was used to make curls in a wig. Builders found it during renovations to a shop on Guildford High Street.
Wigs were very popular amongst men in England in the 17th and 18th centuries. The wig curler was heated up and the hair of the wig was wound round it. Wig curlers were normally made from the same white clay that was used to make tobacco pipes.
Men wore their wigs over very short hair or even a completely shaven head. Wigs were a very fashionable look and they also helped to control the spread of head lice. Generally, people thought wigs were more hygienic than real hair but this wasn't always the case. In 1665 during an outbreak of plague, the famous diarist Samuel Pepys recorded his concern at wearing a new wig. He was worried that the hair used to make it might have come from a person with the plague.
Visit us
Guildford Museum
Castle Arch
Quarry Street
Guildford
GU1 3SX
Opening times
Monday to Saturday - 11am to 5pm
Free entry