You are here:

Braganza embroidered box
Braganza embroidered box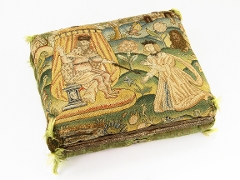 What was it used for? Storing trinkets
Where is it from? England
When was it made? Mid to late 17th century
How was it made? Embroidery stretched over a wooden box
What was it made from? Silk, velvet, metal thread, paper and wood
Size: L 229mm, W 178mm, D 102mm
Museum number: G.6823
At first glance, this embroidered box, shaped like a cushion, looks like it was made in the 17th century. This type of needlework was an important part of a girl's education at that time. The two figures on the top, whether royalty from that time or characters from the Bible, are also appropriate for that date. However, some experts think the box may be made from a mixture of pieces made at different times.
This box is lined inside with silk and divided up into compartments. Boxes like these could be used to store all sorts of trinkets, from jewellery to needlework equipment.
Needlework of this period usually features scenes from the Bible. However, at the time of the 'restoration' of the monarchy in 1660, images of the Stuart kings and their queens were also popular. The man is wearing a crown but he doesn't look like Kings Charles II or James II. We therefore think the picture is biblical. The characters are likely to be Esther, from the Old Testament, asking her husband King Ahasuerus to spare her people, the Jews. Certainly, this story was a popular one to depict in art.
Inside the box is a mirror and underneath it is an inscription. It says "A Tapestry Dressing Box belonging to Queen Catherine Consort of King Charles the 2nd and given by her to her Protestant Secretary Mr. C...." Unfortunately, the name of the secretary is very difficult to read. It looks like a version of the surname Carew. Sadly, Catherine of Braganza is not recorded as having a secretary by that name. The handwriting is in a 19th century style and some experts think that the inside of the box dates from that century. Others suggest that the whole box was made in the 19th century but somebody covered it with an older piece of needlework. It looks as if the box will keep its true history secret for some time to come.
Visit us
Guildford Museum
Castle Arch
Quarry Street
Guildford
GU1 3SX
Opening times
Monday to Saturday - 11am to 5pm
Free entry