You are here:

Dresden work fichu trim
Dresden work fichu trim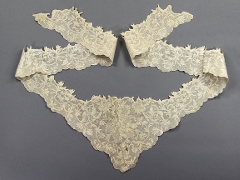 What was it used for? Decorative clothing
Where is it from? Probably Germany
When was it made? 18th century
How was it made? Embroidered
What was it made from? Muslin
Size: L 770mm, W 13mm
Museum number: G.576
This piece of embroidery would have been applied to a fichu as a trim. A fichu was a delicate shawl or scarf worn by women in the 18th century. Some women had fichus, which were decorated with a type of embroidery called Dresden work, named after a town in Germany. The beauty of the embroidery contrasts with the town's history.
Fashionable fichus of the mid-18th century were normally made, like our one, from white muslin. Although fichus were sometimes left plain, Dresden work was a popular decoration. The embroidery takes its name from the town in eastern Germany where it was mainly made by professional embroiderers. The manufacture of Dresden work became a huge international industry.
The needleworkers copied lace patterns when designing Dresden work. They chose embroidery stitches, which created a textile with the open airy qualities of lace. The embroiderers used stitches, which pulled the threads of the woven cloth together to make patterns of holes. They also used shadow work (sewing on the back of the cloth to make thicker areas of material) and surface embroidery. The embroiderers took inspiration from rococo design, an ornate style full of curves and images from nature. This was a popular style across many forms of art in mid-18th century Europe and in particular influenced the architecture in Dresden. The final embroidered trim is delicate and elegant - perfect for an 18th century lady of fashion.
Dresden had a long history as the capital of the rulers of Saxony. The city centre was full of baroque architecture, which led to people calling it the 'Jewel Box'. However, in 1945 the Royal Air Force and United States Army Air Forces destroyed much of the centre when they bombed the city to reduce Germany's military capability.
Visit us
Guildford Museum
Castle Arch
Quarry Street
Guildford
GU1 3SX
Opening times
Monday to Saturday - 11am to 5pm
Free entry