You are here:

Embroidered box
Embroidered box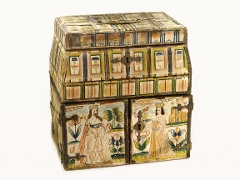 What was it used for? Storage
Where is it from? England
When was it made? Mid - late 17th century
How was it made? Embroidered sections applied to a wooden box
What was it made from? Silk, metallic thread, mica paper and wood
Size: H 245mm, L 240mm, W 172mm
Museum number: NG.1708
This embroidered box would have been a precious item due to the expensive materials used and the amount of time it took to make. For a young girl this type of box was the high point of her education. However, the family who owned this box may have kept it hidden due to the pictures on it of King Charles I and his queen.
The box is heavily decorated in expensive threads including gold and silver ones. We have also found traces of mica, a sheet-like material with a shiny appearance. Inside the two doors at the front and under the lid are many compartments lined with pure silk.
In the 17th century, girls learnt to sew from a young age. They made intricate boxes like this one at the end of their education to show the skills they had learnt. Only girls from wealthy or aristocratic backgrounds made these types of boxes. The materials were costly and in addition, it must have taken many hours to make. This meant only someone who did not have to work for a living had the time to make it.
The lower part of the box shows King Charles I (reigned 1625 - 1649) and his queen, Henrietta Maria. Charles I was a largely unpopular king and he was executed (killed) in 1649 for treason: he was accused of putting his personal interests above those of the country. However there were still supporters of the monarchy after Charles I was beheaded and they rallied round his son, who was later crowned Charles II.
The king and queen stand amongst flowers, insects, and significantly an oak tree. We don't know when our box was made but the oak tree suggests it was after 1651. That was the year that Charles II was defeated at the Battle of Worcester. Legend has it that he hid from his pursuers in an oak tree. Such an obvious royalist picture suggests the family were supporters of the monarchy. For their own safety, the family may have had to keep the box private until the restoration (return) of the monarchy in 1660.
Visit us
Guildford Museum
Castle Arch
Quarry Street
Guildford
GU1 3SX
Opening times
Monday to Saturday - 11am to 5pm
Free entry