You are here:

Needlework box
Needlework box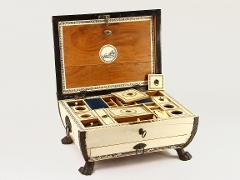 What was it used for? To store needlework tools and threads
Where is it from? Made in India
When was it made? Late 18th century
How was it made? Woodworking with ivory veneer
What was it made from? Wood, ivory and bronze
Size: H 191mm, L 267mm, W 203mm
Museum number: NG.1
A needlework box like this one was an essential item for a well to do lady in the late 18th century. She could use the many compartments for different threads and tools. Although the box shows Chinese style scenes it was actually made in India. However, it was probably never used in either country but was made especially for women in Europe.
This box would have been an expensive item as it is made from a thin layer of ivory applied over a wooden base. The handles and claw feet are made from bronze, as is the filigree (decorative metalwork) on the corners.
During the 18th century, an increasing number of Indian goods appeared for sale in Britain. This was the time that the East India Company was expanding its trade with India to include political and military control. Indian craftsmen turned their skills to making goods that European people would like. The fashion at the end of the 18th century was for all things Eastern. Other Asian goods, such as silk material and porcelain from China and Japan, flooded into the West.
Soon Britain started making goods in Eastern designs. The newly developed factories were able to make large numbers of items at an affordable cost. The mills of northern England made fabrics such as chintz (a colourful flower pattern) which Britain had originally imported from India. Instead of exporting finished items, India was forced to export more and more raw materials. Indian artisans had to take on lower skilled work, producing goods such as tea and cotton. These items gave them far less income.
Workboxes like this one were still popular with British women a century later. By then they were more likely to be made in Birmingham than Bombay (Mumbai).
Visit us
Guildford Museum
Castle Arch
Quarry Street
Guildford
GU1 3SX
Opening times
Monday to Saturday - 11am to 5pm
Free entry