Thimble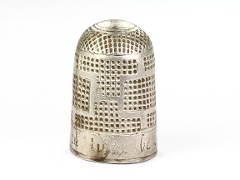 What was it used for? Finger protection whilst sewing
Where is it from? Oxted
When was it made? 17th century
How was it made? Possibly by lathe
What was it made from? Silver
Size: L 25mm, W 17mm
Museum number: AG.24186
This silver thimble from the 17th century is a rare find, particularly because it is in excellent condition. It could easily have been damaged when a person wore it on his or her finger for protection whilst sewing. Our thimble is lucky to have survived at all because similar thimbles were used to fund a war.
Until the late 17th century, the decoration on thimbles was normally made by hand using a hammer to strike a punch (metal rod with a shaped tip). However, this one has very regular decoration and the craftsperson may have made it on a lathe (machine that turns the object). This thimble may originally have come from The Netherlands, as the Dutch seem to have specialised in making thimbles at this time.
The inscription around the base reads "In. tust. be. just". It is possible the second word was meant to be "trust". It was common in the second half of the 17th century for thimbles to have religious or moral messages on them. Inside the rim is a maker's mark consisting of the letters "T.C." in a shaped shield.
During the 17th century, silver thimbles were increasingly common. The discovery of silver in the New World (North and South America) led to a rise in the use of silver for all sorts of small household items. However, surviving thimbles are rare. Once used and worn out, thimbles could be melted down and the precious silver sold for reuse. In England, during the Civil War (1642 - 51) large numbers of women on the Parliamentarian side are said to have donated their silver thimbles to fund the war effort.
Visit us
Guildford Museum
Castle Arch
Quarry Street
Guildford
GU1 3SX
Opening times
Monday to Saturday - 11am to 5pm
Free entry