You are here:

Museum shop
Museum shop
Find out what treats are in store in the Guildford Museum shop.
Come and visit the Museum Shop...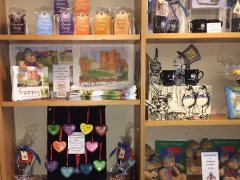 Drop into the museum shop, near the main entrance on the ground floor. We've got a range of exciting products including gifts, books and our own branded items. You'll also find a range of toys and novelties for "pocket-money" prices for kids - from traditional marbles to unicorn poo - there's something for everyone.
Every purchase made in our shop goes towards supporting the museum.
Exclusive products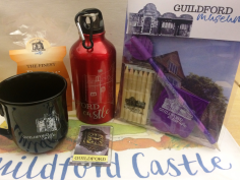 Our hand painted wooden hearts feature quotes from Lewis Carroll's Alice in Wonderland, created exclusively for the Guildford Museum by an independent artist. We also carry exclusive Guildford Castle branded mugs, water bottles and tote bags.
Our specially made stationery packs are a perfect little gift for children, they contain a pencil, notebook and rubber/coloured pencil.
Books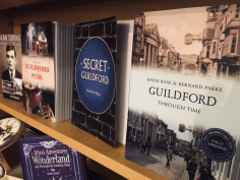 We stock a full range of local interest and history books. Some of the current books you'll find in our collection include:
Guildford Pubs by David Rose
Secret Guildford by Marion Field
Guildford Through Time by David Rose & Bernard Parke
Guildford History by Matthew Alexander
Alan Turing - Guildford's Best Kept Secret by Paul Backhouse
Surrey Railway Stations Through Time by Douglas d'Enno
Guildford's Cricket Story by David Firth
What's new?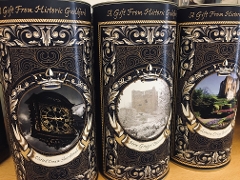 Guildford Museum's own biscuits, fudge and preserves. Beautifully packaged biscuits, fudge and preserves showcasing photos of historic Guildford.
You will be spoilt for choice with many flavours to choose from. Great for gift-giving and exclusive to Guildford Museum.
Related pages
Translate
Twitter feed
Follow
Museum shop
Was this page useful?
Answer
Vote Percentage

Yes

100%

No

0%
Contacts