You are here:

Our History Our Identity outreach project
Our History Our Identity outreach project
Community outreach and engagement project across Guildford borough.

The project
In 2017 we gathered memories and stories of Guildford's past and present during the Your Stories, Your Museum - funded by Arts Council England project. In 2018, we decided to build on this work and reach more people. We wanted to explore connections, conversations and stories about Guildford's villages. The project, 'Our History, Our Identity' revealed our borough's rural history and identity. We worked with partner organisations, including museums, village halls, societies and local groups.
We visited as many parishes as possible, attending local events. We took our small stand and museum objects to break the ice, stir memories or create intrigue. We found objects relating to the area we visited.
Events attended in 2019
20 July - Wood Street Village Show
Yet another great outreach whilst making our way through the Guildford Borough. This time we brought some hot stuff with us - such as this pie dish and Sun Fire insurance sign!
The dish was made around 1840 and was used in Worplesdon to cook the game pie. Pie recipes of the early 1840s did not often feature pastry as grain was expensive!
The Sun Fire insurance sign, once displayed at the New Inn in Worplesdon, made a big come back during the show! Local residents remembered using one of those signs in the past. These metal plaques are known as the fire insurance marks. They are marked with the symbols of the insurance company they belonged to. Fixed to the front of buildings, they made sure that the insurance company's fire brigade attended the fire.
The signs were used in the eighteenth and nineteenth century before public fire services existed. The first to use the plaque was the Sun Fire Office, established in 1710. This is one of the oldest documented insurance companies in the world! We have learned so much about these signs from the public. We're now working on researching and updating our records! Thank you to everyone that visited and shared their story.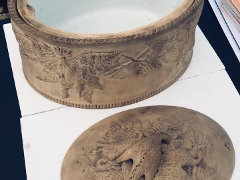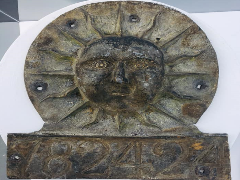 ---
22 June - Shackleford Village Fete
For summer 2019 we were back for round two of OHOI project! Our first event was held at Norney Farm in Shackleford for the annual Shackleford Village Fete.
As usual, our visit involved taking some gems from the museum's collection to the place where the objects were found.
On the day, Shackleford residents and visitors enjoyed seeing this 2,000-year-old Roman bowl, found in fields near Shackleford. The Romans lived in Britain from AD 43 - 410 and brought about cultural and domestic change.
This bowl may have been used to prepare or serve food in a kitchen. We enjoyed discussing the items with the public and speculating about their owners, how they were made, and their use.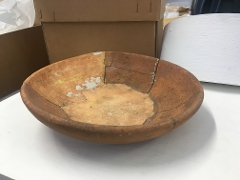 Events attended in 2018
27 October - Tongham Autumn Fair
Our team had a fantastic time at the Tongham Autumn Fair on 27 October, where we asked local residents what, or who, makes Tongham, Tongham!
Many local residents mentioned the treacle mines, plus two men who were awarded George Crosses for saving Tongham during World War II, and the apple orchards. Apparently, all roads in Tongham are named after different type of apple species!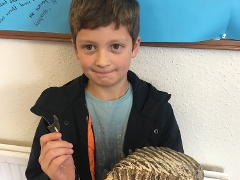 The Neolithic Flint Arrowhead, around 4000 - 6500 years old, was of special interest to our younger visitors at the Autumn Fair.
The arrowhead is a transverse arrowhead. Unlike a conventional arrowhead, which tapers to a point, a transverse arrowhead usually widens to a long edge and would have been attached to the shaft at its narrowest point.
One resident's find created some excitement when they showed us a copy of a local history book. In the book, there was a chapter on pottery finds around Tongham. By coincidence, we realised that an illustration in the book showed a piece of pottery that we had brought with us to the fair - amazingly the exact same item!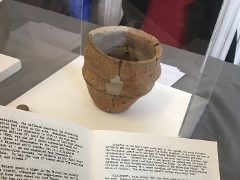 ---
16 October - Tuesday Café at West Clandon Royal British Legion
It was great to talk to West Clandon residents at their Tuesday Café at West Clandon Royal British Legion. Thank you to all the residents who brought their keepsakes to share with us on the day; creating an Antiques Roadshow like experience!
There were some fascinating objects that had been found in Clandon, including what may have been a fish tooth, between 100 million and 72 million years old (definitely older than our mammoth tooth!) and the most delicate but intricate watercolours painted by a local artist, depicting Clandon's rural landscape.
A late 19th Century animal collar from the museum collection caused quite a stir. Inscribed with the name WJ Bateman, East Clandon, it has a lock and a key, so would have been a secure means of tagging an animal, probably a dog - it is heavy! The other objects of interest were the fragments of post-medieval silver seal-matrices. Kings, aristocrats, and important institutions had seal matrices that they used to leave their mark on the wax seals of letters and envelopes. By the 1600s, when these matrices date from, the use of seals was widespread and had been adopted as a mark of identity by not just those in aristocratic circles.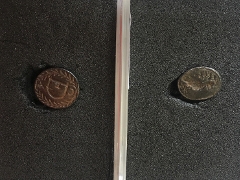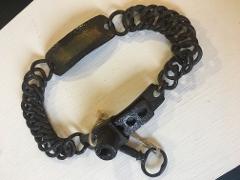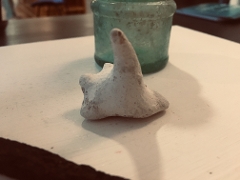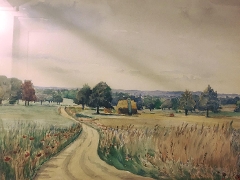 ---
30 September - Commoners' Day at Effingham Common
This was yet another great day out with objects from our collection. We were pleased to bring objects found on the Common and to be able to share their history with Effingham residents. It was thrilling to find out that Effingham Common exercises the commoners' rights up to this day! There is plenty in the village for locals to be proud of; one resident explained: ''For such a small village, there has been an extraordinary number of extremely interesting and accomplished residents for at least 150 years - Sir Barnes Neville Wallis, Julius Caesar Czarnikow to mention a few..."
From the objects' display, the Tudor bill hook was well received (originally a cutting tool used in agriculture and forestry, it was later used as a weapon in battle). The Roman coin from the period between 14 - 37AD also captured visitors' interest. During this period Britain was not yet part of the Roman Empire, but it had a diplomatic and trading relationship. The goods that would have been traded between Britain and the rest of Europe included food, woollen garments and livestock.
We also exchanged information with the Effingham Local History Group about various objects and the locations they came from.

---

9 September - Ash Museum Heritage Open Day
We were privileged to team up with Ash Museum during its Heritage Open Day on Sunday 9 September. Located in Ash Cemetery Chapel, the museum has remarkable stained glass windows commemorating the men of Ash, Wyke, and Normandy who died in the Great War. The Grade II listed building is full of fascinating objects.
Our conversations with residents and visitors during the day focused on the long lost pottery industry, which used local clay to produce borderware. Borderware (sometimes called Surrey whiteware) was a type of pottery made exclusively on the Surrey/Hampshire border and used all over England.
The day's favourite object from our collection was the stereoscope. This stereoscope dates to about 1860-1870 and would have been owned by an ordinary middle class family. It was used by the donor's family in and around Ash for 100 years.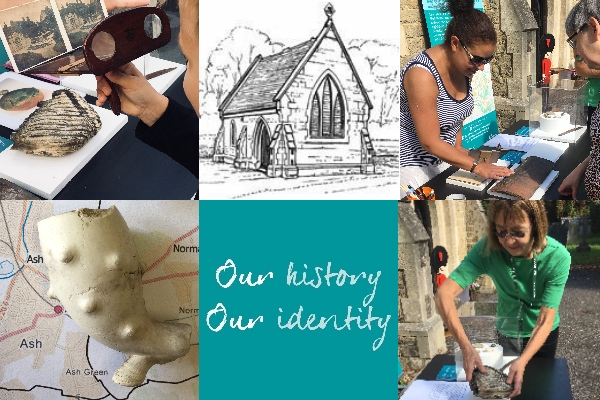 Drawing of chapel by John Hurr.
---
27 August - Normandy Village Fete
We were delighted to join the Normandy Parish Council team during their annual Village Fete. The parish of Normandy is made up of a collection of hamlets strung together: Wyke, Christmaspie, Willey Green, Pinewood and Flexford.
Talking to local residents during the fete gave us a glimpse of what matters to the community and what constitutes its identity. Many visitors mentioned sporting history and current facilities in the village, such as cricket, archery and tennis. The Therapy Garden also cropped up.
One famous local character was William Cobbett, who championed traditional rural England during the time of the Industrial Revolution. The village has a fantastic historic society, known as the Normandy Historians, which researches local history and personalities worth knowing about. According to the Normandy Historians: "Cobbett was an admirer of Thomas Paine who wrote The Rights of Man, and is said to have brought the bones of his hero back from America and buried them somewhere on the Normandy Farm, although in spite of investigation, the only bones that have been discovered are those of horses!"
During the fete, we received a drawing done by a very young visitor who captured all the objects brought from Guildford Museum, including a mammoth tooth, Roman coins, roof tile, peace of Roman bowl and thumb scraper. We promise, they are all there in her drawing!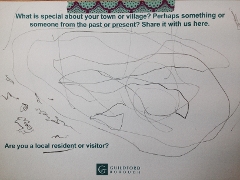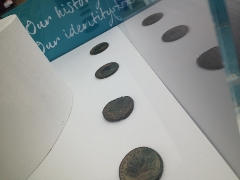 ---
11 August - Ripley Farmers' Market
With amazing smells and great local produce, Ripley Farmers' Market was a great place to find out more about what makes Ripley unique. It will not come as a surprise that Eric Clapton is strongly embedded in the village memories, but so are the roots of cycling through Ripley High Street, the history of cricketing or a coaching stop for sailors travelling to Portsmouth; apparently, even Admiral Horatio Lord Nelson stopped here...!
Our stand was visited by Marilyn Scott, director of The Lightbox Gallery and Museum in Woking, who was celebrating her 28th anniversary of moving to the area. Marilyn commented:
"More history in the village now than anywhere else I know. Everyone has a story and every building has a history. Having lived here for 28 years this month I am still finding out new things and undiscovered treasure in the community. I had never seen the enamelled crucifix fragment from Newark Priory until today - I had seen it many times in pictures and knew the story of the Priory but I had never seen any artefact, that was really thrilling. I have always found it a magical place - the painting by Turner captures its magic but to see something tangible was a real thrill."
Cameron Brown, Chairman, Send & Ripley History Society, commented:
"Well done Guildford Museum for their initiative in inviting communities all around the borough to think about what is special about their own village or town. There was lots of interest among the visitors to Ripley's Farmers' Market. Please come again."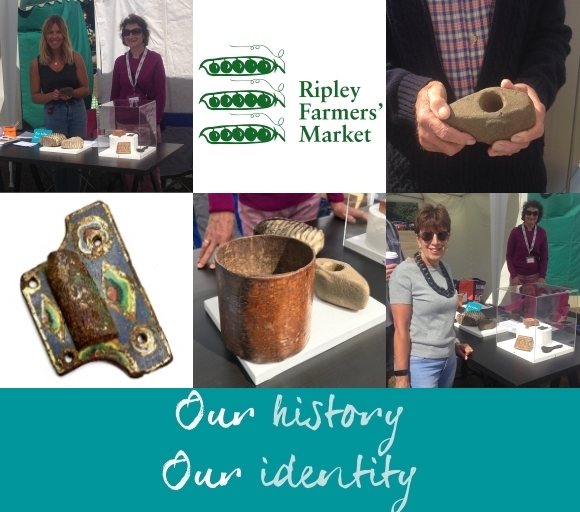 ---
5 August - Wanborough Barn Open Day
Watch our short video to find out more about our day at Wanborough Barn.
Stephen Callender, Chairman, Wanborough Barn's Management Committee commented:
"We were delighted to welcome Guildford Museum to The Great Barn of Wanborough on our 5 August Open Day.
It makes a lot of sense for the museum to engage with local people and explore the stories and history of the Borough away from the town centre.
Wanborough is steeped in history from pre-historic man, to the Monks who built The Great Barn over 600 years ago, to the SOE who trained here.
By displaying the ancient Celtic/Romano Priests' regalia found close by, the Museum added an important relevance that attracted a lot of attention from visitors to The Barn and helped encourage contributions to the Our History, Our Identity project."
Related pages
Translate
Twitter feed
Follow