>
>
>
>

Play Strategy 2016-2021
Play Strategy 2016-2021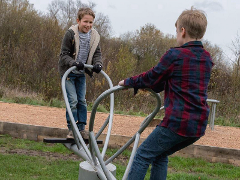 The Play Strategy 2016-2021 will help us to ensure that our playschemes and our play area facilities are of a high standard and are what is needed locally. The strategy will ensure that the opportunities for children and young people to play that are provided for by the Council, are co-ordinated, to make best use of resources.
The
Guildford Play Strategy [10.48Mb] is made up of three sections which, are aligned to our overall vision for play in Guildford:
Section 1: The Play Strategy
Section 2: The Fixed Play Equipment Strategy
Section 3: Play Strategy Action Plan
The strategy has an:
Executive Summary [1.02Mb] and a
children's version. [1.05Mb]
Why do we need a play strategy?
We recognise that play is a crucial part of a child's development and wellbeing yet, the more complicated, busy and risk averse our lives become, the fewer opportunities there are for children to play freely.
Play provision is therefore part of the necessary infrastructure, which needs to be planned for and sustained, in order to contribute to healthy communities across the borough.
Our themes
The strategy themes are the principles on which we will develop our play provision to 2021 and beyond.
Widening accessibility and participation in play
Increasing awareness of opportunities whilst ensuring that our own provision is accessible and inspiring to all children by removing the barriers that restrict children's access to play.
To advocate for play
Promoting children's right to play through increasing understanding of the importance of play and embedding children's play needs into local communities.
Improve children's health and wellbeing through play
Promoting and increasing confidence in participation of a wide range of safe and physically active play opportunities.
Balancing risk in play
Embedding a risk benefit approach to managing the design, delivery and development of a broad range of challenging and inspiring opportunities for play.
Measuring success
In order to implement the strategy we have developed a coordinated and resource led action plan and a play area development plan. These will be monitored, evaluated and reviewed on an annual basis.
The Play and Youth Development Officer is here to:
provide skilled professional advice on children's play for the Council

design and manage play projects, schemes and events that promote a diverse range of play and leisure opportunities for children and young people

promote opportunities for play within the borough

provide information, advice and support to community groups wishing to develop community play provision within the borough
For more information on play in Guildford, please contact the Play and Youth Development Officer by emailing playdevelopment@guildford.gov.uk or call 01483 444764.
The Parks Team is here to:
provide strategic direction for developing play spaces and to coordinate partners such as parish councils

undertake planned improvements of sites

develop areas identified as deficient in play space

inspect, maintain and manage attractive play space provision within the Council's portfolio that children want to play in
For more information on play areas in Guildford, please contact the Parks Team by emailing parks@guildford.gov.uk or call 01483 444728.
Play Strategy