Guildford Museum - this is what we've been up to!
Our museum remains temporarily closed for maintenance work, but this month we catch up with our colleague Mark Graham, the Guildford Borough Council Building surveyor, who is leading this project. We asked Mark all about the challenges and surprises that have resulted from working on the project.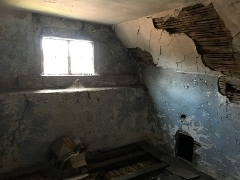 I am a building surveyor with extensive experience of working on heritage properties. I currently work in the Corporate Property team at Guildford Borough Council and my role is to look after the repairs and maintenance work to the council's non-housing property. I am also the project manager for the museum restoration.
Guildford Museum is a complex building and is made up of four individual buildings linked together with a frontage to Quarry Street. Number 48 Quarry Street (built in 1835- Listed Grade II) is at the northern end. Next to number 48 is the Muniment Room (built in 1928), which replaced a 19th century warehouse. Adjacent to this is the Gallery (built in 1910). At the southern end of the row is the oldest section of the museum, Castle Arch (Listed Grade II and part Scheduled Ancient Monument).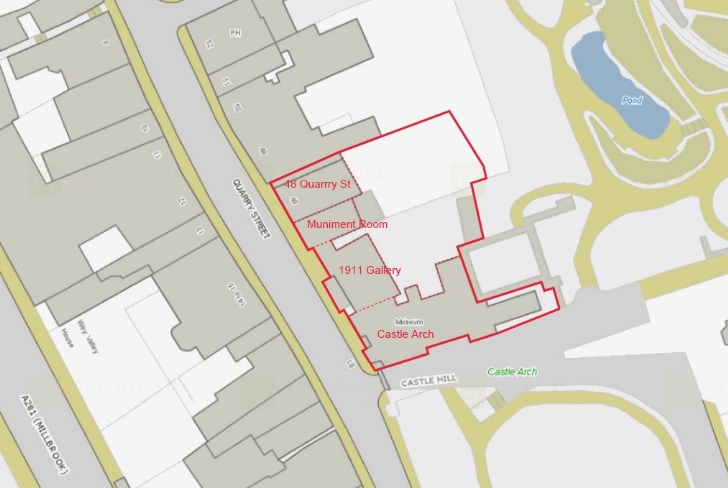 Castle Arch was a family home built in the mid-16th century. It incorporates a medieval (13th century) gatehouse. The building has had many alterations and was 'refurbished' in the early 17th century and divided into five separate dwellings.
The museum project began life as structural repairs to number 48 Quarry Street, with the aim to house all museum staff in one place. Other than the ground floor front room where there is a display, the rest of number 48 is used as offices.
The museum works have included damp-proofing, roof repairs over the main entrance, redecorating selected display areas and the installation of a new fire alarm. We have also upgraded the visitor toilet for disabled people who are able to walk, and installed a new reception desk and shop area at the main entrance.
Part of the collection has been moved to off-site storage and staff have been working from other locations while work has been carried out.
Working on such an old building must be quite special - can you tell us about any favourite moments?
My favourite moment was seeing the video room restored to its former layout. We removed a screen partition and discovered a window. This has created a new display area with a window and an exposed old kitchen sink, which has been kept. This might even be used as an exhibit in its own right - so look out for it when you next visit!
Have you uncovered any hidden treasures during the project?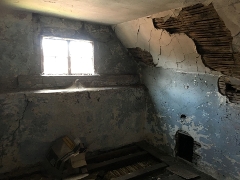 Although not hidden, the two attic rooms next to to the King's Chamber were very difficult to access and no members of the current museum staff had ever seen them until we climbed in there during the current works.
We reached the rooms through a ceiling hatch in the first-floor room overlooking Castle Arch. We think that an old staircase was removed to maximise floor area on the first floor. These rooms have windows overlooking the rear courtyard and were built around 1672.
Working on a building as old as our museum must have uncovered a few surprises...
Part of the works involved replacing the window to the textile display room. This had been boarded up inside and out. When the boarding was removed to replace the window, we found that there were two windows to replace.
We also found that there had been a 'catslide' roof (which is a steep roof ending close to the ground) which had been removed when two rooms (currently used as the staff kitchen and staff toilet) were added.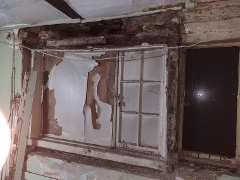 What has been the biggest alteration?
The caretaker's flat in 48 Quarry Street had not been lived in for ten years. This has now been converted as part of the museum. We have taken down a partition, added in the 19th century when the building was in use as a school, and we have made a new staff room with a kitchen that can also be a meeting room.
One thing that the public should come and see when we re-open is...
The redecorated and re-carpeted entrance gallery. There is also a new enlarged reception counter and shop area. Many of the display spaces have also been refreshed and will be ready for the return of our collection objects. The temporary gallery space, which changes regularly during the year, will host various exhibitions.
We hope you will pop in and visit us soon and please tell us what else you would like to see at the museum in the future.