You are here:

Active Guildford - sport development strategy
Active Guildford - sport development strategy
Find out about 'Active Guildford', our five-year sport development strategy for 2016 to 2021.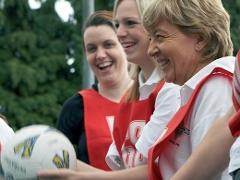 Our Sport Development Strategy 2016 - 2021 is the overarching plan setting out how we intend to improve the health and wellbeing of our community through participation in sport.
From 2016 to 2021 we are aiming to raise the profile of sport, promote the health benefits of an active lifestyle and widen access to quality sport provision.
What our strategy provides
Five year resource to support the strategic direction of sport.

Resources to help local organisations gain access to funding.

An action plan to drive development outcomes.

Local working group to drive development outcomes and set action plan targets. This consists of a number of local partners including the independent Sport Council, Sport Guildford.
Our vision
Our vision is to improve quality sports provision and engage all our community in sport, so that by 2021 Guildford will be one of the most active boroughs in south east England.
Priorities for our strategy have been drawn up with the help of our residents and these will underpin our action plan.
Our priorities
We will work in partnership to:
encourage sport participation opportunities for all age groups

target those who are participating less than the general population

support the development of clubs, coaches and volunteers

maximise the usage of local places for sport.
Outcomes
By 2021, by working in partnership, we will have:
enhanced the health and wellbeing of residents through better access to quality sport

increased the activity levels of residents by promoting participation in sport, targeting those who are less active

improved pathways for talented athletes

improved local sports facilities and programming so that they may continue to maximise usage

widened the opportunities for coach and volunteer development
The Council's Sport Development Officer is here to:
work in partnership with local, regional and national organisations to maximise the effect of sport development plans

provide strategic direction and coordinate partners

promote opportunities for sport provision within the borough

provide information and support to sports clubs and local organisations to help them develop and become sustainable
For more information on sport in Guildford, please contact the Sport Development Officer by emailing sportsdevelopment@guildford.gov.uk or call 01483 444265.
Related pages
Translate