Sustainability in the community
Guildford Repair Café
Learn to repair your broken items at the Guildford Repair Café. Cafés occur monthly throughout the year at different locations in the Borough. For more information, visit the Repair Café page and like us on Facebook to keep up with the latest news (search 'Repair Café Guildford').
Library of Things
Run by volunteers, the Library of Things is a scheme that allows residents to borrow hand-held DIY, gardening and decorating tools at a fraction of the cost to buy (please note: there are no electrical items to borrow).
How to book
To borrow an item from the Library of Things, you will need to first book it online via the Guildford Makerspace website. Items can then be collected from Guildford Library, 77 North Street, Guildford GU1 4AL.
Opening times
The Library of Things is open weekly from 4pm to 7pm at Guildford Library, with scope to increase opening times, depending on demand.
---

Guildford Indoor Hydro Project
The Hydro Project produces electricity by harnessing energy from water flowing down the River Wey. This renewable energy generation scheme is located in a grade II listed building: the Toll House on the River Wey. If you are interested in finding out about the history of the Toll House and how the hydropower turbine works on a guided tour, please get in touch to organise a tour. Tours are available all year round.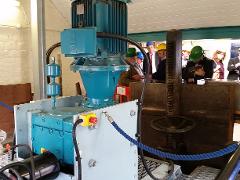 ---

Farmers' markets
At our Farmers' markets, alongside high quality fresh local produce, the Climate Change team exhibits to offer information on energy saving grants, products and renewable technologies. Find out more on our Guildford Farmers' Market page.
---

Guildford in Bloom
Guildford in Bloom brings together community groups, businesses, schools and residents to promote imaginative ways to make the town and surrounding areas look their best and champion Guildford's natural environment.
---

Walking for Health
Walking for Health offers over 3,000 free, short walks each week. Find a Health Walk Scheme near to you.
School community support
Hydro Drama Workshops
Guildford's indoor town hydro project, at the grade II listed Toll House, produces electricity by harnessing energy from water flowing down the River Wey. We run free hydro drama workshops, in partnership with the Yvonne Arnaud Theatre, and sponsored by Ecopare Ltd, for pupils in years 5 and 6. Almost 1,000 years of history are covered in a couple of hours during this entertaining and interactive session, which covers the invention of the water wheel, royal disputes, gruesome accidents, hauntings, whacky new inventions and a tour of the hydro power plant.
Hydro drama workshops sponsored by Ecopare Ltd
Eco Schools
Becoming an Eco School is a great way of promoting sustainability and getting the whole school involved. Visit the Eco Schools website for information.
---

The Pod
Useful teaching resources tackling energy, science and sustainability for 4 to 14 year olds are available from Join the Pod.
Business communities
There are a number of local and national initiatives to help businesses become more sustainable through recycling, procurement procedures, energy efficiency and travel policies:
1. Guildford's commercial recycling services will help your business reduce, reuse and recycle. The service can be individually tailored to meet your specific business needs.
2. Sustainable procurement is not just about buying 'green' products; see Gov.UK's guidance on sustainable procurement for information and best practice advice.
3. Environmental taxes, Reliefs and Schemes for Businesses. Your business may be eligible for some government taxes, reliefs or schemes.
4. Small and Medium sized Business (SMEs). Energy saving tips are available from the SME Guide to Energy Efficiency.
5. Surrey County Council has information on workplace travel plans. which can help reduce your environmental footprint.
6. Surrey Liftshare encourages sustainable travel by linking drivers and passengers with a journey match.
We can also come and present some energy saving and recycling ideas to your business if desired.