You are here:

Specsavers Surrey Youth Games 2019
Specsavers Surrey Youth Games 2019
The Specsavers Surrey Youth Games is the largest annual youth sports festival in Surrey, involving over 2,000 young people over the course of the games weekend: Saturday 15 and Sunday 16 June 2019. In the lead up to the games, Guildford Borough Council, in partnership with local clubs and coaches, provides free taster sessions in various activities across the borough.
These taster sessions are beginner level for young people who want to try a new activity, make friends and have fun!
Registration is now open for this year's free activity taster sessions.
Before you register your child, please read the list of available sessions and the criteria for each activity. Your child needs to either live, or go to school, in Guildford borough and be of the correct age/gender in order to register for Team Guildford's free taster sessions.
The Specsavers Surrey Youth Games weekend will take place on Saturday 15 and Sunday 16 June 2019.

For more information, please contact the Sport Development Officer by calling 01483 444769 or email sportsdevelopment@guildford.gov.uk.
All activities are suitable for beginners.
Surrey Youth Games 2019 taster sessions

Sport

Age

School Year

Venue

Taster Session Dates

Times

Badminton
**Currently full**

Please join the waiting list when registering using the link above

Junior boys and girls

9 to 11 yrs

5 and 6

Arena B, Surrey Sports Park, University of Surrey, Richard Meyjes Road, Guildford, GU2 7AD.

Wednesdays

1, 8, 15, 22 May and 5, 14 June 2019. (Excluding May Half Term)

(Please note: last training session is a Friday in Arena C)

5pm to 6pm

Senior boys and girls

11 to 14 yrs

7, 8 and 9

6pm to 7pm

Boccia

(for young people with disabilities)

Junior boys and girls

7 to 13 yrs

3 to 10

Please contact the Sport Development Officer.

Please contact the Sport Development Officer.

Please contact the Sport Development Officer.

Senior boys and girls

13 to 18 yrs

9 to 13

Couch to 2k

(Fun jogging)

Boys and girls

12 to 16 yrs

8 to 11

Bellfields Green (opposite St Peter's Church), Hazel Avenue, Guildford, GU1 1NP.

Fridays

3, 10, 17, 24 May and 7, 14 June 2019 (Excluding May Half Term)

6.30pm to 7.30pm

Non - contact Boxing

(Non-contact boxing is skills-based training with pads and gloves.)

Non-contact boys and girls

11 to 16 yrs
**Currently full**
Please join the waiting list when registering using the link above.

7 to 11

Guildford City Boxing Club, 150 Cabell Road, Guildford GU2 8JH.

Tuesdays

30 April, 7, 14, 21 May and 4, 11 June 2019 (Excluding May Half Term)

6.15 pm to 7.45 pm

Football

Girls

6 to 8 yrs

2 and 3

OPTION 1:

Artificial Grass Pitch 1

Surrey Sports Park, University of Surrey, Richard Meyjes Road, Guildford, GU2 7AD.

Thursdays

2, 9, 16, 23 May and 6, 13 June 2019. (Excluding May Half Term)

4 pm to 5 pm

OR OPTION 2:

Albury Football Sports Club, Sandy Lane, New Road, Albury GU5 9DB

Saturdays

27 April, 4, 11, 18, 25 May and 8, June 2019. (Excluding May Half Term)

9am to 10am

Hockey

Junior boys and girls

7 to 9 yrs

3 to 4

Artificial Grass Pitch 2, Surrey Sports Park, University of Surrey, Richard Meyjes Road, Guildford, GU2 7AD.

Sundays

28 April, 5, 12, 19, 26 May and 9 June 2019.(Excluding May Half Term)

9.30am to 10.30am

Senior boys and girls

9 to 11 yrs

5 to 6

Judo

**Currently full**
Please join the waiting list when registering using the link above

Boys8 to 12 yrs

3 to 7 * (born between 17 June 2006 - 16 June 2011.)

Option 1:

Squash Courts, Guildford Spectrum, Parkway, Guildford, Surrey GU1 1UP.


OR Option 2:

Chandler Junior School, Middlemarch, Witley, GU8 5PB

Option 1:

Saturdays

27 April, 4, 11, 18, 25 May and 8, 15 June 2019. (Including May Half Term)


Option 2:

Saturdays

27 April, 4, 11, 18, 25 May and 1, 8 June 2019.
(Including May Half Term)

Option 1:

10 am to 11 am




Option 2:

9am to 11.15am

Girls

8 to 12yrs

3 to 7 * (born between 17 June 2006 - 16 June 2011.)

Tennis

Boys and girls

7 to 8yrs

3

Option 1:

Outdoor tennis courts 6 and 7, Surrey Sports Park, University of Surrey, Richard Meyjes Road, Guildford, GU2 7AD.

Mondays

29 April, 13, 20, 27 May and 3, 10 June 2019. (Including May Half Term)

5.30 pm to 6.30 pm

OR Option 2:

Ash Tennis Club, Ash Hill Road, Ash, Guildford GU12 5DP.

Saturdays

27 April, 4, 11, 18, 25 May and 8, June 2019.(Excluding May Half Term)

4.30 pm to 5.30 pm

Netball High 5
**Currently full**
Please join the waiting list when registering using the link above

High 5 girls

8 to 10yrs

4 to 5

Outdoor netball courts 6 and 7, Surrey Sports Park, University of Surrey, Richard Meyjes Road, Guildford, GU2 7AD.

Wednesdays

1, 8, 15, 22 May and 5, 12 June 2019.
(Excluding May Half Term)

6 pm to 7 pm

( High 5)

7pm-8pm

(Junior)

Netball
**Currently full**
Please join the waiting list when registering using the link above

Junior girls

10 to 12yrs

6 to 7

Squash

Junior boys and girls

7 to 10yrs

**Currently full**

Please join the waiting list when registering using the link above

3 to 5

Squash Courts 4 to 6, Surrey Sports Park, University of Surrey, Richard Meyjes Road, Guildford, GU2 7AD.

Fridays

3, 10, 17, 24 May and 7, 14 June 2019.
(Excluding May Half Term)

4 pm to 5 pm

Senior boys and girls

10 to 13yrs
**Girls' places still available**

**Boys' places currently full**

Please join the waiting list when registering using the link above

6 to 8

5 pm to 6 pm

Table Tennis

Junior boys and girls

9 to 12yrs

**Currently full**

Please join the waiting list when registering using the link above

5 to 7

Sports Hall, Kings College School, Southway, Guildford GU2 8DU.

Thursdays

2, 9, 16, 23 May and 6, 13 June 2019. (Excluding May Half Term)

6pm to 7.30 pm

Senior boys and girls

12 to 15yrs

8 to 10
You can view videos from Surrey Youth Games 2015 here: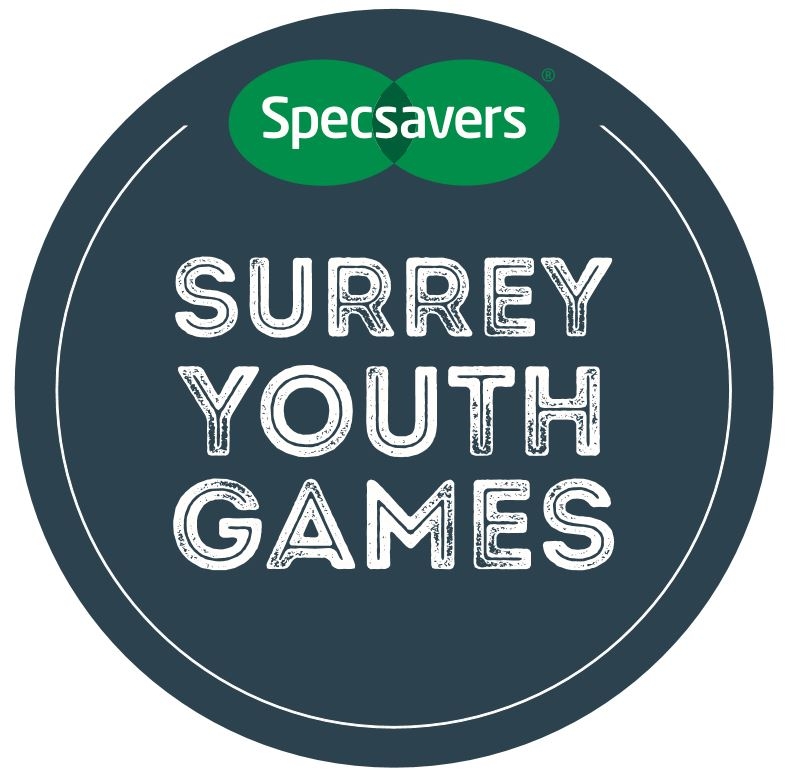 Translate
Twitter feed
Follow
Links