>
>
>
>

Join our volunteering programme
Join our volunteering programme
There are all sorts of ways you can get involved with your local museum.

We value our volunteers - we couldn't do what we do without them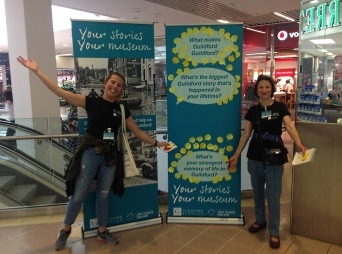 From greeting visitors and leading tours to assisting with workshops, activities and special events - every minute our volunteers give makes a huge difference.
We are constantly developing our work with the local community and this means putting on more events and activities, running new projects and undertaking more consultation with our visitors.
To do this we need more volunteers to support us and help build an event more exciting museum offering. Currently, we have the following opportunities:
Visitor Engagement Volunteer - helping with consulting / talking to visitors, making visitors welcome, gathering feedback, looking after the resources available around the museum; those can relate to trails or interactive exhibits.
Events Volunteer - attending community events, talking to general public, gathering feedback, setting up stalls.
Activities Volunteer - assisting in preparing and delivering children's/family activities, such as crafts (both drop-in and pre-booked) during school holidays and on Saturdays. These may have a craft, science, history or other theme. Preparing workshops for adults, assisting in creating appropriate resources and helping with setting up workshops and clearing up afterwards.
Volunteering for us may be an ideal way to make use of skills you have not used for a while, or to add something different to your CV! In return for your help we offer experience in most areas of working in the museum and its collection. To join our Volunteering Program you must be 18 or over.
If you are interested in being a part of our team, and for more information, please call us on 01483 444751, or email Heritage Services or write to Guildford Heritage Services, Guildford Museum, Castle Arch, Guildford, GU1 3SX.
'We are grateful for the continued enthusiasm and professional advice that we receive from Surrey University Students' Union and Voluntary Action South West Surrey in supporting our volunteering programme.'