You are here:

Your Stories, Your Museum - funded by Arts Council England
Your Stories, Your Museum - funded by Arts Council England
The Your Stories, Your Museum (YSYM) project laid a firm foundation for new ways of working for our team at Guildford Museum, and for colleagues, who worked and supported the project across various departments within the Council.

The project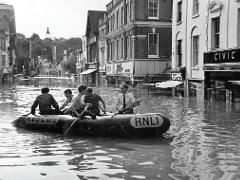 The YSYM project has shifted the museum from static to dynamic, outward looking, and responsive; reflecting the community it serves and inspiring the staff that work within it.
During the project, we got local people involved in helping us choose the Guildford stories that the museum team will now explore in future displays, activities and events.
''The Your Stories, Your Museum project allowed us to have more local people, organisations and partners involved with the life, work and future of Guildford Museum and we felt extremely privileged to be a part of such collaborations.''
Heritage Services Team
We were delighted to be awarded a grant from Arts Council England, from its Museum Resilience Fund, for our YSYM project. This project enabled us to build relationships with the town and the borough and to work with our community to develop offers that meet local needs and interests.
Your Stories, Your Museum and its legacy is contributing to the project to develop Guildford Museum and will help us create a lively community museum for the 21st century.
Project highlights
Community projects
Between April 2017 and April 2018, we hosted a series of events and exhibitions, within the museum and in the community, working with local people to identify the big Guildford stories and how to use these to explore new possibilities for future displays. We also tried out different ways of telling those stories, so they would appeal to a range of visitors.
The Heritage team has delivered eight pilot community engagement projects, involving targeted audiences. It assessed the potential and value of the different ways of collaborating with the community. This approach led to five community co-curated exhibitions, working in partnership with:
Joining In Men's Group
Guildford Nursery School
Children's Centre
Halow
The Friends of Guildford Museum
Monitoring and evaluation have been integrated into each project to track pilot sessions and test activities, allowing the team to make changes to the planning and delivery of future programmes and displays. Read more about the individual projects on our Community projects page.
"We really enjoyed working with the museum. The museum has always sought to be a constructive partner, which has allowed us to achieve outcomes which meet the needs of everyone. We wouldn't be where we are without this approach."
(Learning to Fly project partner)
Gathering memories and stories - collection interpretation
As part of the project we gathered memories and stories of Guildford's past and present by asking:
what makes Guildford, Guildford?

what's your strongest memory of life in Guildford?

what's the biggest Guildford story that's happened in your lifetime?
According to you, the aspects of Guildford that most represent the town are: High Street, Castle gardens, history and heritage, Downs/country, canal/river.
Our public consultation enabled us to talk to individuals from all walks of life. We visited 21 community events and locations within our borough and consulted over 1600 people (residents and tourists) of all ages and backgrounds.
Emerging themes
The data gathered from your stories highlighted themes, such as:
creative Guildford

making Guildford: the development of the town

art and literature

innovation

crime and punishment

people, power and politics

immigration and migration.
Popularity of personal stories
Visitors responded most positively to questions that elicited a personal story, showing us a clear appetite for "people stories". The responses given to the trial questions are useful to us now in different ways.
The consultation responses will give ideas for future temporary exhibitions or online content. They will help us select themes and events for future permanent exhibitions. Responses will also form the basis of historical parallels, where experiences can be related to past events in the town.
Read the
YSYM Project Interpretation Plan, [11.9MB] written by our consultant Philip Simpson Design, to find out more.
Check out the community events we organised.
Volunteering programme
Number of new volunteers recruited during the YSYM project: 25

Volunteer hours contributed to the YSYM project: 320
Through the YSYM project we were able to establish a new volunteering programme that, since it began in June 2017, has attracted many people living in and around Guildford.
Our partnership work in developing the programme with Volunteering Action South West Surrey and University of Surrey Student Union, has enabled us to gather a diverse workforce that supports different aspects of work within the organisation, such as: activity support, stewarding galleries, co-developing social media content and helping with events.
Find out about volunteering opportunities on our Join our volunteering programme page.
The Discovery Table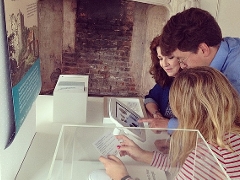 What is the Discovery Table? It's where we are trying out different ways of sharing information and stories about the objects in our collections. You can read a text, use a touch screen, listen to an audio description or try a creative activity on the table.
We displayed and evaluated two themes during the YSYM project period on the Discovery Table (a medieval urinal and World War One) that 217 people engaged with. This part of the project allowed staff to work with digital technologies and incorporate audio recording into the display.
The Discovery Table is now being used for different community projects and displays. Next time you visit, try it out and let us know how you prefer to receive information about the objects on display. Our visitors' responses will help us select the ways in which information is presented in the museum's future displays.
The Discovery Table can be found in the Discovery Lounge at the museum. This room has not been open to the public before now, so it is worth a visit!
Background page image: Guildford High Street in the snow, December 1962. © Photograph taken by Thomas A Wilkie FRPS AIBP

Related pages
Translate
Twitter feed
Follow