You are here:

What we've done
What we've done

Our museum team would like to share with you some past Your Stories, Your Museum (YSYM) events that they were a part of. During these events they had a great time meeting fantastic and interesting people and relished the opportunity to share more information about YSYM project and Guildford Museum. Thank you to everyone who visited our stands.
Surrey County Show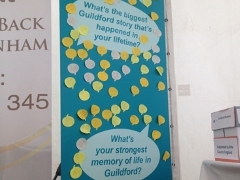 This was YSYM stand's first big public event outside the museum. We were really proud to take part in 2017 Surrey County Show and represent Guildford's Heritage alongside our colleagues from the Tourist Information Centre.
Many people visited our stand and contributed to the project. We have gathered various stories and memories from people that connect with Guildford in many different ways.
Picnic in the Castle Grounds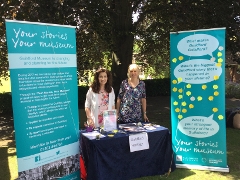 YSYM team enjoyed meeting all the families and visitors to the castle grounds. The project really encouraged a lot of storytelling and sharing of memories.
We were pleased to have received a lot of questions about YSYM project and all the changes planned for Guildford Museum.

Guildford's Great Get Together Street Party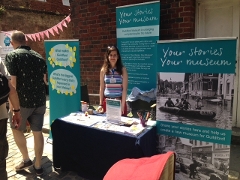 Our team joined the street party to celebrate the town's community spirit and to share YSYM project with local people and visitors alike. We were keen to find out people's opinions on what makes the town so special.
Local residents were delighted to encounter Guildford's museum team on Chapel Street. We even managed to get a minute of fame by being included in Surrey Advertiser, the local newspaper.
Ash Village Fete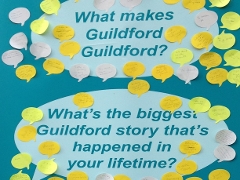 As part of YSYM we were keen to hear the memories of people across the whole of the Borough of Guildford.
We had great fun in joining Ash Village Fete and gathering memories of Ash and the surrounding area.
Guildford Library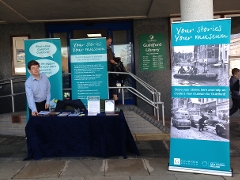 The YSYM project teamed up with Guildford Library in bringing 'past and present' to life. Visitors were able to browse through collections of old photos and objects, discover how things evolved, or not, in and around Guildford.
Inspired by Alice Family Fun Day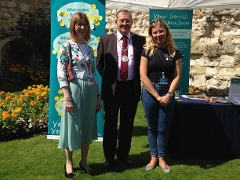 We loved celebrating Lewis Carroll's famous storybook character Alice in the beautiful Guildford Castle grounds.
The YSYM stand welcomed many visitors from all walks of life. We were even fortunate enough to introduce the project to Deputy Mayor, Councillor Mike Parsons.
Thank you all for telling us your wonderful and captivating stories and memories of Guildford.
Memory of the day - 'swimming in the Guildford Castle Baths- swimming lessons!'
Pictured above: Deputy Mayor, Councillor Mike Parsons and the YSYM team.
The Friary Guildford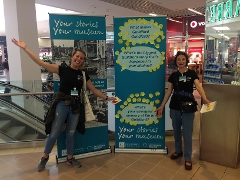 As part of YSYM, we wanted to hear the memories of Guildfordians and visitors alike.
We had a fantastic day at The Friary Centre with local 'That's Surrey TV' visiting and filming the YSYM stand.
Memory of the day - 'meeting a couple who met each other at Guildford Museum and this year will celebrate their silver wedding anniversary'.

Normandy Village Fete
We felt so welcomed by the Normandy Village Fete team and visitors - thank you for having us and for sharing your interesting stories and memories of Guildford!
Memory of the day - 'walking to Farnham from Guildford in the snow in 1962-63'.
Student Union Market
We headed up Stag Hill to University of Surrey Students' Union Campus to be part of their Market Day in October! It was so interesting to know what students and staff had to say about - What makes Guildford, Guildford?