Guildford Design Awards 2022: Exhibition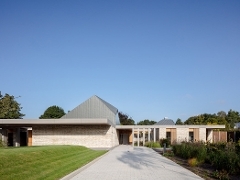 The Guildford Design Awards were established to encourage and recognise; good design in new buildings and external spaces; restoration and conservation projects which ensure the legacy of our heritage buildings; projects which demonstrate sustainable energy principles and exemplary environmental awareness. The Awards help to establish a sense of civic pride in our built environment and improve our awareness of the importance of good design and the benefits it brings to our daily wellbeing.
We are excited to announce that we will be holding an exhibition of the 2020 and 2021 award winning projects in early September to coincide with the Heritage and Architecture Open Days which are from 9 to 18 September. The exhibition will be held in the town centre before going on the road to some of the surrounding villages.
Joss Bigmore, Leader of the Council, said: "This is a fantastic opportunity for the community to celebrate the great designs from 2020 and 2021. It is extremely positive to see that this exhibition will be touring our villages and made available for more people locally. We are so proud of our Guildford buildings and outdoor spaces. It's important to appreciate the high quality of design and thought that goes into the improvement, sustainability and conservation of architecture in our borough. This exhibition will inspire and teach us about excellent design projects across Guildford."
The exhibition will be an opportunity for the public to see and learn about some the excellent quality of buildings and design projects that have been completed across Guildford that entered the awards and hope that the exhibition will encourage participation in the future Guildford Design Awards programmes.
The exhibition will include completed projects in the following categories;
Commercial Buildings
Public Buildings
Community Buildings
Individual Houses
Multiple Housing
Conservation Projects
Regeneration Projects
The Public Realm
Public Art
We look forward to the participation of the local design community and welcoming the public to see these examples of good design in the Borough.
Details of the exhibition dates, locations and entry panel requirements will be published in the near future. Architects and Designers will be asked to prepare their own panels and cover these costs.
The Guildford Design Awards is a joint project between the Guildford Society and Guildford Borough Council, applications for the 2023 awards will be open next spring. We welcome notification of any potential entries over the next 12 months via Chair@Guildfordsociety.org.uk
Having considered the potential entries for this year's Guildford Design Awards and the lack of potential entries in several categories resulting from the pandemic, we have reluctantly decided to postpone this year's awards and to combine them with the Guildford Design Awards for 2023.
This notification has been prepared by the Guildford Design Awards