God bless the sweet babe: Guildford Museum's embroidered baby caps
As Guildford Museum's Collections Manager, I love researching the stories behind our collection of baby caps, which date from the late 1600s to the early 1900s. This first part of a two-part blog post looks at just a few of the 100 caps in our collection and the amazing work that went into making them.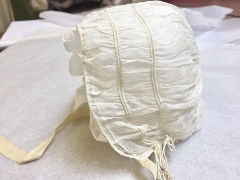 Religious or family motifs such as animals, phrases or initials were often sewn into baby caps. The title for this blog comes from one of the caps in our collection which has the words 'God bless the sweet babe' created in lace.
Caps were more frequently decorated in this way than other items of baby clothing, possibly because they were more visible than shirts or long shifts worn by babies.
All of our baby caps demonstrate incredible needlework skills. In this first part of my blog post about our baby caps, I will share some of my personal favourites.
Until quite recently, the covering of a baby's head was seen as crucial to his or her survival. It was thought very important to keep a baby's head warm up to at least 12 months, and caps were usually worn until children were two or three years old. This still continues today to an extent: new parents are advised to put hats onto their babies for the first 24 hours after birth, and hospitals often use colour-coded knitted hats to indicate babies with greater needs.
Often, more than one covering would be used at once: caps, triangular forehead cloths, and 'biggins' - a sort of close-fitting cap or cloth that bound the baby's forehead very tightly, thought to help the plates of infant skulls to fuse more evenly and quickly.

For example, this head cloth has ties to keep it firmly attached to the baby's head and features stunning Italian lace, dating to the 1600s. (This is part of a layette that will feature in part two.)
In the past, baby caps and bonnets were usually made of linen (cloth made from flax plants) or cotton muslin, and later caps could also be knitted or crocheted in wool. Styles like these were in use for a long time, and are similar to bonnets available today.
The pictures below show a plain linen cap gathered into a circular crown with silk ribbons as ties, dating to the mid-1800s, and a linen cap with whitework and broderie anglaise, arranged in a pattern of sprays of flowers.


The simple knitted cap with a frill around the baby's face (below left) was made in the 1700s or early 1800s. Some caps were embroidered in bright colours, or have added beads and buttons. The 1700s Italian cap (pictured below right) includes embroidery in coloured silks as well as silver wire. When it was first made it would have been vividly coloured - pink, green, blue, yellow, white and black, with the silver thread glinting brightly throughout.


Many items of baby clothing were decorated with a type of embroidery called 'whitework'. Whitework is called this because of the white thread sewn over the top of white material. This could be as simple as decorative floral patterns stitched on top of the linen, but many show examples of much more complex embroidery known as 'cutwork' or 'drawn thread work'.
Each cap is decorated in some way, ranging from little tucks, stitches and pleats through to spectacular all-over embroidery, lace, ribbons and ruffles.

For example, this cap dating to the early 1800s and worn at the donor's christening in 1896 has cutwork, drawn thread work
and
embroidered whitework.
Cutwork involves making little cuts into material, then stitching over and around the holes.
A common form of cutwork is called 'broderie anglaise' or English embroidery, which uses buttonhole stitch around the decoratively cut circular, oval or tear-shaped holes to make repeating floral patterns. It makes for very attractive but also relatively robust clothing, perfect for babies and toddlers! This embroidery technique is often used on clothing today, especially children's clothing, as well as household linen (for example tablecloths) or underwear, and is usually made by machine today.

This cylindrical cap is thought to have been for a boy and has broderie anglaise across the top. It was made by the donor's mother around 1910. Baby clothing (in fact, pretty much all domestic clothing) would generally have been made by women and girls for their own families. Our samplers are evidence of that and are almost universally made by girls (see our
blog post
for more information). Young boys were taught needlework as well, but not to the same degree. And when I hold these caps, I can't help but think about the hours of work that went into making each one.
Some of the more complex decorations, such as panels of needlepoint or lace frills, were made by specialists in places like Ayrshire (known for its whitework) and then made up into caps by women in their own homes.
The baby cap from the late 1700s is embroidered with tiny flowers at the nape of the neck and has a panel of delicate lace on the top (pictured below left). Some of our most lovely caps include inserted strips of lace known as holliepoint, a name thought to come from the word holy; religious motifs were often included. We have about 10 caps with holliepoint lace. The example pictured below right, dates to around 1780 and shows three strips of holliepoint joined together - one strip at the front, a circular crown, and a final strip at the back of the head. The pattern includes birds, urns, flowers and initials thought to have belonged to family members. The front strip of holliepoint is too long for the cap and may be evidence of the lace being re-used or repurposed from another item of clothing.


Saving the best till last, this truly spectacular example from the mid to late 1700s has the words 'the Noble Jane' and 'God bless the sweet babe' worked into the holliepoint. Whoever made this holliepoint lace was extremely skilled.

When this cap (click on the image to see a larger view) came into the collection, the curator at the time tried to find a ship with the name the Noble Jane without luck.
I have since found reference to a ship called the Noble Jane that was wrecked in New York Bay during a voyage from Rhode Island to London in 1749. After this, the ship was rebuilt and renamed as the Jacob.
If this is the correct Noble Jane, then perhaps the owner of the baby cap in our collection had some connection to this ship and those who were on board during the storm? Or, perhaps the baby who wore it was born on board the ship?
The second part of this blog about our baby caps will focus on one particular set of baby clothes made for a baby we do know something about: Henry Wakeford, born in Cobham in 1707.
Blog post by Catriona Wilson, Guildford Museum's Collections Manager.