What's on
Exhibitions and events
Find out what's on in all our heritage venues.
---
Platinum Jubilee - A Time of Celebration
Guildford Museum is celebrating The Queen's Platinum Jubilee. With a display of objects and images to remember how Guildford has celebrated royal occasions.
Location: Guildford Museum
Dates: 14 May - 18 June
Times: Wednesdays to Saturdays midday to 4.30pm (last entry 4pm)
Entry is free.
Family Fun Activities
Create a dish for the Jubilee tea table
Join this drop-in craft activity to add to the Tea Table, a feature of the display
Museum trail
Look for the symbol to find Royal-related objects around the museum
Oyez family fun drop-in creative activity
Create a traditional tri-corn hat as worn by the town criers. For centuries, town criers have rang their bells to share news of celebration and great importance.
Dates and times for Oyez family fun:
1 June midday to 1.30pm
1 June 2pm to 3.30pm
Free with all materials supplied
All children must be accompanied by adults
---
Model Town - Build Guildford
Guildford is full of wonderful buildings. This spring our temporary exhibitions gallery at Guildford Museum is home to Model Town- Build Guildford,a display with activity at its heart.
Join in by making a model of one of the town's famous landmarks or a building that means something to you. We'll supply the boxes and other materials. Come to one of our facilitated Family Fun sessions or drop in during opening hours. Suitable for all ages. We can't wait to see what wonderful models you make!
Location: Guildford Museum
Dates: 26 March - 7 May
Times: Drop in anytime Wednesday to Saturday midday to 4.30pm (last entry 4pm).
Entry is free.
---
A display from the Surrey Infantry Collection
Guildford is the home of England's oldest infantry regiment: The Queen's Royal Regiment. It was raised in 1661 by King Charles II to garrison Tangier in Morocco. Through objects and images our case display from the Surrey Infantry Collection introduces The Queen's Royal Surrey Regiment. It brings us the stories which connect the Regiment to Guildford and the people who live here. As well as exploring the history of the regiment the display features Corporal Jesse Peters, who was the Town Crier of Guildford from 1946-1966.
Location: Guildford Museum
Dates: Opens 16 February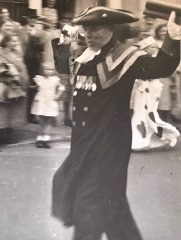 Image 1: Jesse Peters 'crying' for Guildford, wearing his military medals. Photo provided by David Peters.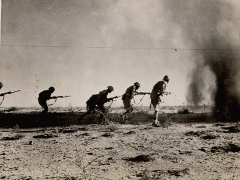 Image 2: Soldiers from The Queen's Royal Regiment (West Surrey) at the Second Battle of El Alamein, 1942. Photo provided by the Surrey Infantry Collection.
---
On the Trail of Guildford's History
Be a history detective! Search Guildford Museum, Quarry Street and Guildford Castle Grounds to find clues which tell us about the past.
Download the trail. (PDF) [1MB]
Or pick up a copy from Guildford Museum. We are open Wednesday to Saturday midday to 4.30pm.
---
Finds identification sessions
Have you come across an interesting archaeological object while out walking or using a metal detector? Bring your find to our Finds identification sessions, and find out more about it.
Our Surrey Finds Liaison Officer, Simon Maslin will take a look.
Location: Guildford House, 155 High Street, Guildford
Dates: Second Saturday of each month beginning Saturday 14 May - 11am to 1pm. (There will not be a finds identification session in April.)
---
Guildford Games Collection Project
We are running a project to collect as many video games made by gaming studios within the borough as we can. These will be added to our permanent collection.
Download the list of games we are collecting. (Excel doc) [19KB] Do you have any you would like to donate?
We will also be holding an exhibition in summer 2022. To find out more read our To find out more read our blog.
---
The Scullery Playroom
A relaxed environment where pre-school children can have fun and develop key skills. Children can learn communication, language, numeracy, gross motor and fine motor skills.
In the Scullery playroom children can:
role play with the toy kitchen complete with colourful fabric food
make a pizza and lay a table for dinner
try washing the Victorian way
join in with the traditional nursery rhymes printed on the walls
colouring and activity sheets with pencils and crayons
relax on a beanbag and read a washing or cooking themed book
view our display of old cooking equipment
Children should be supervised in the room.
The Scullery Playroom at Guildford Museum is supported by the European Regional Development Fund and HM Government through the Welcome Back Fund.


Location: Guildford Museum
---
Coffee Time Talks
Join us on the first Thursday of the month for an informative but relaxed talk on topics of local interest.
A chance to meet with other people for coffee and chat first followed by the talk which lasts about 50 minutes. All talks are free but voluntary donations are welcome.
Please prebook your place by emailing heritageservices@guildford.gov.uk or telephoning 01483 444751.
Times: Doors open at 10.30am. Talks start at 11am and last for about 50 minutes.
Dates:
Thursday 26 May: Royal Guildford. As we mark the Queen's Platinum Jubilee join town guide Steve Callaghan for this armchair tour of Guildford looking at the town's links to royalty. Location: Guildhall
Thursday 7 July: The History of Newlands Corner. Join Trevor Brook from Albury History Society to learn more about this fascinating place: Fairyland, a hospital, soil buildings, airshows, Stracheys, Agatha Christie, Clough Williams-Ellis and evacuees. Location: Guildhall
Thursday 4 August: Georgian Women, Portraits by John Russell. Learn about Russell's techniques and the women in the portraits with Lynn Szygenda, Exhibitions and Audience Development Officer. Location: Guildford House Gallery
---