Come along to next week's Crowdfund Guildford workshop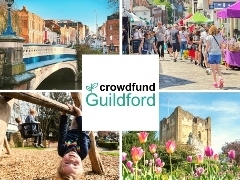 Join our workshop next week to find out how to unlock funds with Crowdfund Guildford. Our new crowdfunding platform will help community-led ideas to make Guildford more vibrant, resilient and connected.
Book your free place at our Zoom workshop on 12 January at 6pm.
Leader of the Council, Cllr Joss Bigmore, said: "We launched Crowdfund Guildford in November - our new community crowdfunding platform just for Guildford. It gives you the opportunity to get the financial support you need for your projects whether big or small. As well as raising funds from the crowd, we have set up the Guildford Community Fund so we can support local projects too.
"With Crowdfund Guildford, the benefits go beyond funds. Setting up a project means you can network and build contacts in your community. In fact, those who joined our first workshop in December walked away with offers of space for their events, potential speakers and new connections. With crowdfunding you can reach more people too. When you share your project and begin crowdfunding, you get the chance to build an audience that really cares about your project.
"You are also likely to unlock bigger funds through crowdfunding. The more backers your project has, the easier it is to attract more and even bigger funders. They can be persuaded by displays of community support and so want to be part of making a difference."
Deputy Leader and Lead Councillor for Community, Cllr Julia McShane adds:
"In next week's workshop, we'll be joined by our crowdfunding experts at Spacehive who will explain how you get funding to bring your idea to life. You will get advice on creating your project and find out how to run a crowdfunding campaign. There will also be the chance to join interactive breakout rooms and get specialised support from the team."
Make sure you submit your final project idea to Crowdfund Guildford by Wednesday 9 February 2022, the deadline for this round of funding.
Once your project is verified by Spacehive, you can begin your crowdfunding campaign by telling your supporters and the wider Guildford community about your project. Find out more about how Crowdfund Guildford works.
Spacehive, a leading crowdfunding platform, is our partner for creating Crowdfund Guildford. Fundraising campaigns on Spacehive have a fantastic success rate.
Published on: 05 January 2022