£390,000 for Guildford businesses impacted by the pandemic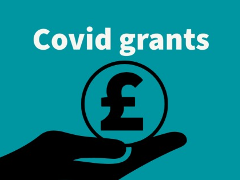 We will be giving nearly £390,000 to local businesses in our borough to help them recover from the economic challenges of the Coronavirus (Covid-19) pandemic.
Guildford businesses that were severely affected could apply for up to £10,000 from the Covid Business Development Grant Scheme between 8 November 2021 to 31 December 2021.
Councillor John Redpath, Lead Councillor for Economy, said: "We will be distributing £390,000 that was made available through the government's Additional Restrictions Grant allocations. This will go a long way to support our local businesses. We know these funds will make a real difference as we move towards recovery from the pandemic."
"The pandemic has hurt our local economy in Guildford, with many sectors severely impacted, including shops, pubs, restaurants and hairdressers. The Covid Business Development Grant scheme was created to support activities that drive growth and productivity, help businesses diversify into new markets, increase sales, improve skills, and create or keep jobs. We are here to support all our local businesses and give as much help as we can. By helping them we know we are also helping the wider community."
Amanda Masters, Chief Executive of Experience Guildford, added: "The grants will go a long way to elevating local businesses to the next level of their growth. Coming out of the mire of the last two years means many of our businesses are now looking much more further ahead than we have been able to of late and so with this financial support to further their plan, there will be strength in the longer term for the Guildford economy."
Published on: 14 January 2022