Significant investment proposed for our housing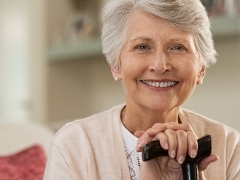 We are proposing a significant investment of £24.5 million to improve our existing housing stock, compared to around £5 million in previous years. A further £142 million has also been proposed for developing and buying new housing. This means we can help protect our environment, support the local community and create jobs.
A rent increase of 4.1% is proposed in line with government direction, which will go towards supporting the ongoing improvements to our housing stock.
Deputy Leader of the Council and Lead Councillor for Community and Housing, Cllr Julia McShane said:
"It is our job to ensure our residents are safe and happy in their homes, so we're investing in our properties to make sure we follow the guidance and legislation issued by the government after the tragic events at Grenfell Tower. We have already started a wide programme of work which includes:
upgrading and improving fire alarms in communal blocks
upgrading fire doors to meet increasing standards
structural improvements to blocks to ensure we are complying with new and ongoing regulations
improving provision of CCTV to help monitor fly tipping and anti-social behaviour which create fire risks
replace fire doors.
"We will also be:
installing more than 600 new kitchens and bathrooms
undertaking structural works
replacing pitch roofs
improving lighting.
"And we continue to work towards improved environmental targets following our declaration of a Climate Emergency. This proposal will give us the opportunity to build on existing work by increasing investment in in our existing housing with improved insulation and installing Air Source Heat Pumps, whilst the new homes we build will meet the highest environmental standards. Together these investments will not only help tenants reduce their fuel costs but also improve energy efficiency and reduce carbon emissions.
"We are proposing a rent increase of 4.1% for our tenants and a 3% rise in garage rent line with the wider council policy on fees and charges. Almost 60% of our tenants receive either Housing Benefit or Universal Credit, so most will have their rent covered in full by these benefits, but we will also increase the advice and assistance to tenants to help them manage their finances. This will include individual support to help households transferring to Universal Credit and targeted assistance to help our most vulnerable tenants sustain their tenancies.
"I want to make it very clear that we're here to help and urge anyone who is having problems paying their rent to get in touch so we can find a solution. We will do everything we can to help our tenants remain in their homes."
The proposed Housing Revenue Account capital investment programme will be put to the Budget Council for approval on 9 February 2022.