Help shape the future of parking standards for new development in Guildford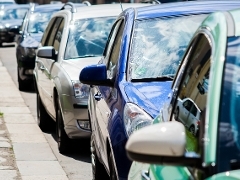 We are asking local residents and businesses to tell us what they think of the draft Parking Supplementary Planning Document in our consultation from 21 January to 18 February.
The draft Parking Supplementary Planning Document sets out detailed advice and guidance for policies on parking standards (ID11) and sustainable transport for new developments (ID3). The guidance is for both vehicle and bicycle parking, as well as setting standards for electric vehicle charging provision.
The policies are in the draft Local Plan: Development Management Policies and the adopted Local Plan: Strategy and Sites 2015-2034. The Development Management Policies is also open for public consultation until 18 February.
Leader of the Council, Councillor Joss Bigmore, said: "This is another chance for everyone to have their say on how we manage development, and specifically parking in our borough. This is not creating new policy but giving guidance on how the policy should be applied.
"The document is a thorough guide for developers. It sets out guidance on the number of parking spaces required. This is based on the proposed development's use, size, location, how close it is to public transport and opportunities for active travel. The document will also guide us in assessing planning applications.
"There are lots of ways to view the document and submit your comments. We look forward to hearing from you."
Comments made will be analysed by the Planning Policy team and the draft document amended as appropriate. The amended document will be adopted following the adoption of the Local Plan: Development Management Policies.
The four-week consultation runs from midday on 21 January 2022 to midday on 18 February 2022.
Ways to view the documents
The Parking Supplementary Planning Document will be available to view:
on our website
at Guildford Borough Council offices, Millmead House, Millmead, Guildford, Surrey GU2 4BB during office hours.
during normal opening hours (excluding Bank Holidays) at Guildford Library, Ash Library, Horsley Library and Shere Diamond Jubilee Library.
Ways to submit written comments
Consultation feedback must be provided in writing. Please ensure all comments clearly state and identify which paragraph number or page they relate to. Please note that verbal or anonymous comments cannot be taken into consideration.
You can do this in a number of ways: