A new pedestrian crossing for Walnut Tree Close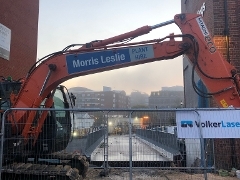 Work starts next week on the construction of a new pedestrian crossing that will improve the route from Guildford Station to the town centre. A small portion of Walnut Tree Close will be closed to vehicle traffic for five weeks, from 7 February to 11 March.
The new crossing will be raised to slow vehicles and allow pedestrians to cross more safely. It will also be much wider to prevent a bottleneck approaching Walnut Bridge.
Lead Councillor for Major Projects, Cllr John Rigg said: "The crossing is part of the work to improve pedestrian and cycle routes from Guildford Station into the town centre. Once completed the route will be much safer, pleasant and more accessible.
"The new Walnut Bridge was installed in September with temporary steps and a ramp. Work to make the ramp fully accessible will begin in spring. The landscaping work on Bedford Wharf Plaza will begin once the ramp is complete. There will be a protected walkway through the Plaza while work is being completed."
While the pedestrian crossing is constructed, a portion of Walnut Tree Close will be closed to vehicle traffic for six weeks and diversions will be signposted. Access to the station will be possible from the south end of Walnut Tree Close and pedestrians will be able to access the close from both ends. One side of the bridge will be open with the temporary scaffold ramp in use for pedestrians. There will be no access from Walnut Tree Close to the towpath by the bridge during the work, although the towpath will be open.
The new pedestrian and cycle bridge crosses over the River Wey between the Billings and Bishop's Wharf buildings on the west side, and the Bedford Wharf area on the east. The bridge is four meters wide, far wider than the original bridge and ramp. This gives plenty of space for bridge users to pass one another. The new ramp will have a more gentle incline with two landings to act as resting places. Tactile paving will be installed at the top and bottom of the steps to help people with visual impairments navigate the space.
The bridge is funded by the M3 Local Enterprise Partnership with contributions from Surrey County Council and Guildford Borough Council.