One week to go to submit your crowdfunding idea - and an extension just for Jubilee projects!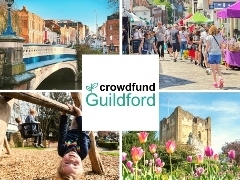 There's still time to get cash for your community projects with Crowdfund Guildford. The deadline to apply for our first round of funding on our community crowdfunding platform is next week, Wednesday 9 February.
We have extended the deadline for any Jubilee projects you need funds for to 1 March.
Leader of the Council, Cllr Joss Bigmore, said: "We want to see proposals from local groups that will benefit Guildford's communities. Projects will have the opportunity to raise money by creating a campaign on the Spacehive platform.
"We have set up the £100,000 Guildford Community Fund, with up to £5,000 available per project so we can support local projects through the Crowdfund Guildford platform."
Deputy Leader and Lead Councillor for Community, Cllr Julia McShane, added: "Do you need funds for your Platinum Jubilee celebrations? If you're planning a street party or community event and you need extra cash, why not crowdfund your celebrations? We will be accepting ideas to Crowdfund Guildford for Jubilee projects up to 1 March. You could receive a pledge from us towards your campaign. This year is a special year, and we want everyone to have a great time celebrating Queen Elizabeth's Jubilee."
It's easy to get started:
For Jubilee-related projects, we recommend you set a target of no more than £2,000 so you have enough time to get the funds before the bank holiday weekend. After you have submitted your Jubilee project to Spacehive for verification, set your campaign to run until the end of April (or sooner).
Once you have successfully crowdfunded and hit your target, the funds will be transferred to you by early May, giving you time to purchase all the items your need for your Platinum Jubilee Celebrations.
If you're planning something different to commemorate the occasion (perhaps some public art or a performance piece) simply fill out the form and Spacehive can advise on the easiest way to crowdfund it.
We launched Crowdfund Guildford in November 2021, in partnership with crowdfunding platform Spacehive. It will fund local projects that support Guildford's communities.
Published on: 04 February 2022