Budget agreed with challenges ahead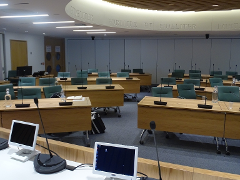 The Council agreed the budget for 2022-23 and other financial plans at last night's meeting (9 February). 
 Lead Councillor for Resources, Cllr Tim Anderson said:
"We continue to operate in extremely challenging times and, like councils throughout the country, we face ongoing budget deficits. Our collaboration with Waverley is part of our Savings Strategy and will mean we realise tangible benefits from cost saving to greater resilience. Despite being on track to achieve our target of £8million savings through our Future Guildford Transformation Programme, we need to save around a further £6millon over the next four years in Guildford alone.
Recent changes by the Government restrict our ability to buy commercial properties which currently yield approximately 6%. This healthy income helps compensate for the substantial reduction in Government funding.
"Last year, the net impact of the Coronavirus pandemic on our budget was £6million, and although we received government grants, we had to use reserves to fund the difference.
"These challenges will not just impact 2022/23, but years to come. While we will have difficult decisions to make, our residents remain at the forefront of everything we do." 
Capital Programme Investment
We have an ambitious Corporate Plan and to achieve our targets we must invest in our assets, using capital expenditure. Decisions made now will have financial consequences for us for many years. The budget for 2022-23 includes significant investment to improve and increase our social housing.
Key projects include:
Weyside Urban Village  
North Downs Housing   
Ash Road Bridge and footbridge.
Shaping Guildford
North Street Regeneration Scheme 
Strategic Property Acquisitions 
Town Centre transport schemes 
Midleton redevelopment
Council Tax 
To set a balanced budget, our Council Tax will be increased by £5 (2.75%) this year. The Council Tax requirement for 2022-23 is set at £10,898,314. The Council Tax charges for 2022-23 are on our website: www.guildford.gov.uk/taxcharge. 
We receive just 9% of the Council Tax we collect. For an average Band D property Council Tax payment we will keep £186.82. a year. The rest goes to the county council (75%), parish councils (2%) and Police and Crime Commissioner (14%). For this £186.82 we provide around £780 of services per household through commercial income from property investment, car parking and sports facilities.
We know that our residents will be waiting to hear more about the council tax rebate. We will let them know as soon as we receive guidance from the government on how it will work.
Investing and maintaining services 
At the end of 2020 we asked our residents where we should prioritise our spending for the medium-term. They told us that services to the elderly and vulnerable, public health and safety, economic development, and environmental and housing services were their top priorities. The services which residents told us they didn't feel were high priority for our spending were arts and heritage, and tourism. They also felt transport and parking and public facilities such as public toilets were less important.
Although we wholly support and value the importance of our borough's brilliant arts and culture sector, we have had to make difficult decision to gradually reduce - not completely cut - our annual grant to the Yvonne Arnaud over the next three years from a substantial £310,000 to a still sizeable £200,000.
We're currently asking residents and businesses to tell us which 4 or 5 public toilets we should close, out of our 16 public toilets. The consultation ends on 27 February.
Climate Change
Having declared a Climate Change Emergency in July 2019, a High Level Strategy and Action Plan was developed. It is now one of our main priorities to develop the action plan so that not only does it address the carbon reductions we need to make by 2030 but also focuses on helping residents and business achieve the needed reductions. The Climate Change Board will be meeting regularly to bring this forward at pace. One of the first areas of collaboration with Waverley will be on climate change and we're looking forward to working with them.
Cait Taylor, the newly appointed Lead Councillor for Climate Change and Air Quality, said: "As a local authority, we have opportunities to make what we do greener and to bring together local groups and individuals who are uniquely placed to make a difference. We are committed to becoming a net-zero carbon borough by 2030 and we will continue to find more ways to reduce our impact on our planet."
New and existing homes
Deputy Leader of the Council and Lead Councillor for Community and Housing, Cllr Julia McShane said:
"A significant investment of £24.5 million to improve our existing housing stock has been agreed. This compares to around £5 million in previous years. A further £149 million has also been approved for developing and buying new housing over the next 5 years.
"We have already started a wide programme of work which includes: 
upgrading and improving fire alarms in communal blocks   
upgrading fire doors to meet increasing standards  
structural improvements to blocks to ensure we are complying with new and ongoing regulations 
improving provision of CCTV to help monitor fly tipping and anti-social behaviour which create fire risks  
replace fire doors. 
"We will also be: 
installing more than 600 new kitchens and bathrooms
undertaking structural works  
replacing pitch roofs
improving lighting.
A rent increase of 4.1%, in line with government direction, and a 3% rise in garage rent which is line with the wider council policy on fees and charges, will go towards supporting the ongoing improvements to our housing stock. Almost 60% of our tenants receive either Housing Benefit or Universal Credit, so most will have their rent covered in full by these benefits, but we will also increase the advice and assistance to tenants to help them manage their finances. This will include individual support to help households transferring to Universal Credit and targeted assistance to help our most vulnerable tenants sustain their tenancies."
Published on: 10 February 2022