Supporting Ukraine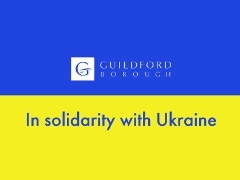 We stand with Ukraine
Become a Homes for Ukraine sponsor
Guidance for Ukrainian nationals living in the UK
Homes for Ukraine sponsor guidance offers information and support to those considering sponsoring Ukrainian guests via the scheme. A factsheet explaining how Ukrainians can apply to the Homes for Ukraine sponsorship scheme is now available in English, Ukrainian and Russian. The government has also published a welcome pack for Ukrainians arriving in the UK.
Find out more using the Homes for Ukraine toolkit
Staying with a host after six months and ongoing support
Your sponsor may be happy for you to continue to stay with them for longer. Not every sponsor will be able to offer accommodation after six months. We encourage guests to plan with their sponsor for what happens next.
Sponsors and guests are recommended to read the private renting advice. This is to ensure that both are fully aware of their responsibilities.
If you have lived in the UK for six months here is some useful information about your next steps.
Finding a new sponsor
To support you, the government have developed a list of links to support you finding a new sponsor:
Renting private accommodation
Make sure you understand private renting laws in the UK Find out about your rights and responsibilities as a tenant.
The how to rent in England guide can help you when you are ready and able to move out of sponsorship.
Help with your rent deposits
We cannot act as a guarantor but we may be able to provide financial help with your deposit. This is to assist you to secure affordable private rented accommodation. Book an appointment to discuss your options. Phone us on 01483 505050 and request a housing options appointment.
Have the following information available when you call:
names, gender and date of birth for all household members
current address and move in date/expected move out date (if known)
sponsors contact details
former address in Ukraine plus move in date/move out date
Let us know if you need an interpretor for the call.
We also have some useful information in our Guildford and Surrey private renting guide. (Word doc) [430KB]
Moving to another area of the UK
Here is a list of organisations that may be able to connect you to a new sponsor in a different part of the UK:
Contacting us for alternative accommodation
We have a limited supply of alternative sponsors on the rematching register. You will be prioritised by risk or emergency basis. If you cannot use any of the above options and you are concerned about where you will live after your sponsorship ends email ukraine@guildford.gov.uk. We will discuss with you:
emergency housing if you have been made homeless. We cannot guarantee accommodating large families as a one group. You may be placed outside of our borough. The time you spend in emergency housing will depend on the availability of other housing
finding a new sponsor. Our potential sponsors are limited. We will find new sponsors on a priority basis. If you have any safety, wellbeing or safeguarding concerns about yourself, or another guest contact us by phone: 01483 505050 or email: ukraine@guildford.gov.uk.
Other things to consider
Ongoing support for guests and sponsors
Surrey County Council offers support on how to find a home, access essential public services, healthcare, find work and childcare and education services across Surrey.
Immigration information
The Home Office has published immigration information about:
The entry stamp you received on arrival into the UK provides evidence of your right to stay in the UK. The stamp is valid for the first six months only. To extend your stay for up to the 3 years you will need to apply for a Biometric Residence Permit.
Apply for a Biometric Residence Permit
Support from us
We currently offer the following support:
Help with council tax
The government changed the council tax rules for Ukrainian nationals living in the UK to:
if a Ukrainian national with a Homes for Ukraine visa only moves in with someone or to a property occupied they do not have to pay council tax. This will not affect the sponsors own council tax arrangements
if a Ukrainian national moves into an empty property, they will need to pay council tax. They will be entitled to a 50% discount if they hold a Homes for Ukraine visa. If any Ukrainian nationals are on low income, they can claim help with the remaining balance by applying for local council tax support
Benefits and financial support
If you have any questions or support call us on 01483 505050.
Find out what other help and support we offer by visiting our cost of living support pages
Guildford's family support
Our family support programme offers support to guests and hosts. We will be visiting or calling all guests and hosts over the coming months. This is to discuss any issues, concerns or help needed. Our team includes a Ukrainian speaker. If you want to speak to someone sooner, email us your contact details: swsurreyfsp@guildford.gov.uk.
We are not able to provide specific housing advice.
Thank you payments under the Homes for Ukraine scheme
Sponsors of Ukrainian families will receive a monthly payment. The payment amount depends on the length of time your guests stay with you.
You will receive:
£600 per month for guests whilst they continue to live with you under the scheme
You will receive these payments for up to 2 years if your sponsorship continues.
Support settling into the community
Experience Guildford
Download the app to get offers and discounts in Guildford town centre using the Privilege Card.
Find a job
Travel
Free bus pass
Ukrainian nationals can now claim a free temporary bus pass.
Local bus operators
Barnardo's free helpline to support Ukrainian families
Barnardo's has set up a helpline to provide support for Ukrainian families. The helpline is for anyone fleeing the conflict in Ukraine, including children and families arriving in the UK. It offers help and advice on a range of topics.
Barnardo's Ukrainian support line
Support for sponsors
The Sanctuary Foundation is offering a free course as an introduction to refugee safety, wellbeing and support.
Useful information
Donations