Supporting Ukraine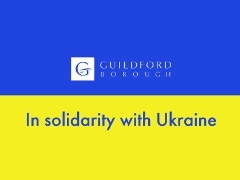 We stand with the UK government and its international partners in condemning the Russian government for its unprovoked war against Ukraine.
We are flying the Ukrainian flag outside our Millmead offices, the Castle and Guildhall in Guildford.
Government action
The UK government is providing a range of economic, humanitarian and defensive military assistance to Ukraine, and is imposing additional sanctions on Russia and Belarus.
How the UK is supporting Ukraine
Homes for Ukraine
This local sponsorship scheme for Ukraine will offer a route to those who want to come to the UK who have someone here willing to provide them with a home.
The scheme matches people, charities, businesses and community groups in the UK to Ukrainians who do not have established families in the country, so they are able to come the UK.
Find out more and register your interest to help on the government's website.
Read the questions and answers on how the Homes for Ukraine scheme will work.
You can read about the role of councils in supporting the Homes for Ukraine scheme. Please note Surrey County Council will have responsibility for some areas, including education and social care.
Role of councils in supporting the scheme
Pairing scheme
The government funded a scheme that offers a matching, training and support services to sponsors and refugees.
Government funded pairing scheme
Support for those affected
Advice and support for British nationals with family members in Ukraine, and Ukrainian nationals in Ukraine and the UK along with information on temporary visa concessions is available on the Government website.
UK visa support for Ukrainian nationals
Information for residents and arrivals
Guidance is available to those considering sponsoring Ukrainian citizens via the scheme:
Homes for Ukraine: sponsor guidance
A factsheet for Ukrainians is now in English, Ukrainian and Russian.
The government has also published a welcome pack. It is currently only available in English, but a Ukrainian translation is being prepared.
Welcome: a guide for Ukrainians arriving in the UK
Surrey County Council support
What is being done to offer support and how communities can also offer support to Ukrainians who are either currently living in Surrey or arriving into Surrey. There is also information here about services available in Surrey for Ukrainians who have just arrived in Surrey.
Surrey County Council support for Ukrainian Nationals
Barnardo's free helpline to support Ukrainian families
Barnardo's has set up a helpline to provide support for Ukrainian families. The helpline is for anyone fleeing the conflict in Ukraine, including children and families arriving in the UK. It offers help and advice on a range of topics.
Barnardo's free helpline (0800 148 8586) has English speakers and interpreters in Ukrainian and Russian. It is open Monday to Friday (10am-8pm) and Saturday (10am-3pm).
A dedicated email address ukrainiansupport@barnardos.org.uk and webpage have also been set up for those helping with the Ukraine response.
Barnardo's Ukrainian support line
Support for arrivals
Surrey Adult learning English course for Ukrainians
Support for sponsors
The Sanctuary Foundation is offering a free course as an introduction to refugee safety, wellbeing and support.
Donations
A wide range of charities and NGOs are operating in the region to provide humanitarian aid and are in need of money to help their work.
Donations can be made to the Disasters Emergency Committee, a coalition of 15 leading UK charities, which has launched its collective appeal to provide emergency aid and rapid relief to civilians suffering during the conflict. Charities involved in the Disasters Emergency Committee include the British Red Cross, Oxfam, UNICEF, Save the Children, and World Vision among others.
The Ukrainian Embassy in the UK has set up its own donation service, With Ukraine.
Travel information
The Foreign Commonwealth & Development Office currently advises against all travel to Ukraine, Russia or Belarus. Their website has separate, updated travel advice and information for Ukraine, Russia and Belarus.
What can you do to help?
Everyone wants to do their bit to support those who have been forced to flee their homes because of the invasion.
More information
If you have a specific question regarding local support for Ukrainians please email ukraine@guildford.gov.uk.